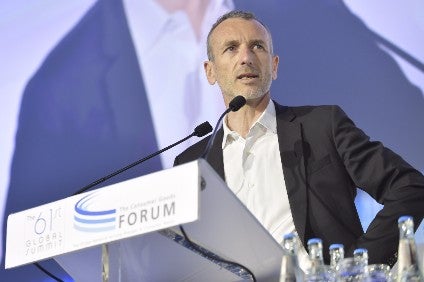 just-food again secured time with some major industry names in 2017 and our interviews with C-suite executives from companies including Sanderson Farms, Nestle and Danone gave you food for thought.
10. Patanjali Ayurved MD Acharya Balkrishna on rise of India's FMCG disruptor
Fast-growing Indian consumer goods company Patanjali Ayurved was described this week as "the most disruptive force" in the country's FMCG market. Set up in 2006, Patanjali Ayurved's mix of food and personal care products, combined with its strategy of promoting the Ayurveda system of medicine, has enjoyed rapid growth – and the business has ambitious plans. Raghavendra Verma met Patanjali Ayurved managing director Acharya Balkrishna to find out more.
9. "All of the major dairy companies are aware of us" – A2 Milk Co. chairman David Hearn on the company's rise
New Zealand-based A2 Milk Co. markets products it says eases the digestive issues some adults and children get from consuming dairy and infant formula – and it is a business growing rapidly, fuelled by demand in China. Dean Best caught up with A2 Milk chairman David Hearn the day after the company booked a set of bumper half-year results.
8. "We can really make a dent in the food industry" – Chris Laidlaw, CEO of Sanitarium's Life Health Foods UK, on new growth strategy
Life Health Foods UK, a venture part-owned by Australian major Sanitarium, is embarking on a new strategy that has M&A at its centre and could see the business broaden its breakfast-portfolio into other categories. Dean Best spoke to Chris Laidlaw, the ex-Diageo executive recently-appointed to take the helm at Life Health Foods UK about the venture's plans to be a European "house of foods".
7. How Danone's "manifesto" is shaping its corporate activity – just-food interview, part two
Danone has, in recent years, underwhelmed parts of the investment community, with complaints about its margins or the performance of its fresh dairy business. Broadly, sentiment among analysts at least has improved in recent quarters, although there remain whispers Danone could be the next target of activist investors. Nevertheless, Danone's recent corporate moves have highlighted the company's interest in areas of health and sustainability. Dean Best spoke to Danone CEO Emmanuel Faber to find out more.
6. "We haven't had a customer ask for antibiotic-free" – The just-food interview with Sanderson Farms CFO Mike Cockrell, part one
Meat processed without the use of antibiotics has become one of the fastest-growing areas of the sector in the US. Fears over antibiotic resistance in humans, as well as the expanding underlying demand for food perceived to be cleaner or simpler, has driven a number of the country's processors to reappraise how they use antibiotics. One company that is so far refusing to go down the antibiotic-free path is poultry processor Sanderson Farms. Dean Best spoke to Sanderson Farms' CFO, Mike Cockrell, to find out more.
5. Freedom Foods Group charting growth strategy from Australia to China and US
Australia-based Freedom Foods Group is balancing its ambitions to grow at home and abroad. A supplier of allergen-free products in Australia, Freedom Foods is expanding its domestic presence through a focus on innovation. At the same time, the company is trying to grow its dairy, snack and cereal sales in China and the US. Katy Askew spoke to Freedom's general manager of marketing and innovation, Tom Dusseldorp, to find out more.
4. Ambitious Arla remains patient with Africa – interview
With the consumption of dairy products in western countries stagnant, the world's largest processors are ramping up investment in emerging markets. European dairy giant Arla Foods is still targeting growth in countries like the UK and Germany through investment in value-added innovation but it is increasingly investing in markets like China and Nigeria. Both feature in Arla's list of priority markets, drawn up in 2015 as part of the cooperative's Strategy 2020 business plan. Arla's executive vice-president of international operations, Tim Orting Jorgensen, talks to John Shepherd about the company's recent moves in Nigeria and how, despite the country's recent economic problems, the market is a springboard for the co-op's ambitions in the wider region.
3. Nestle's baby food arm Gerber on adapting to grow
Gerber, one of the most-established names in the baby food sector, is marking its 90th anniversary. In some markets, a company can trade on that longevity; in others, it can turn some consumers off. Bill Partyka, Gerber's president and CEO, talks to Dean Best about how the Nestle-owned company is emphasising its heritage in China but seeking to adapt to changing consumer tastes in the US.
2. Adelie Foods CEO Martin Johnson on "turnaround" of UK food-to-go firm – interview
On its fourth majority shareholder in five years, with contracts lost and won and a manufacturing network restructured, Adelie Foods, the UK sandwiches-to-salads supplier, is a business aiming for a period of growth – and stability. Dean Best caught up with CEO Martin Johnson as Adelie Foods set out its latest strategic move, the relaunch of Daily Bread, a brand it acquired from Hain Celestial in 2012.
1. Danone CEO Emmanuel Faber on why industry "mindset" on health and sustainability needs to change – just-food interview, part one
Danone has declared an "Alimentation Revolution". The France-based food and beverage giant has urged the industry to join a "movement" that aims to "nurture the adoption of healthier and more sustainable eating and drinking habits". Emmanuel Faber, Danone's CEO, made the call at last month's Consumer Goods Forum in Berlin. Dean Best caught up with Faber after his speech to find out more about what he says is Danone's "manifesto", how it is defining the company's actions and why the industry should join them.