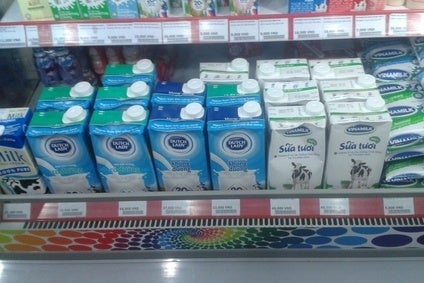 This week's selection of reports from the just-food store shines a spotlight on Vietnam, a market in which international food manufacturers are taking a growing interest. Macroeconomic research is included, as well as analysis on specific categories from dairy to confectionery.
Dairy Food Market in Vietnam: Databook to 2017
The report presents detailed historic and forecast data on dairy food consumption trends in Vietnam, where the market is buoyant. The analysis offers consumption volume and value at market and category level. Bringing together research, modelling, and analysis expertise to develop uniquely detailed market data, it allows both foreign and domestic companies to identify market dynamics.
Database of Dairy Product Producers in Vietnam – Company Names, Financial Performance, Key Executives, and Contact Details
The report includes details for 21 dairy product producers in Vietnam which makes the report an invaluable resource for industry executives, marketing, sales and product managers, analysts, and other people looking for key market insights. The report is essential for companies who want to find out more about the leading players on the market or to find and contact potential customers and partners.
Vietnam – ISA Country Report
A report including trade and investment analysis, economic forecasts, political risk assessments and demographic trend analysis. Each ISA Country Report contains detailed economic data and forecasts, analysis of trade and investment opportunities and coverage of the key political issues facing the country.
Noodles in Vietnam
The noodles category has not yet reached maturity in Vietnam and was still developing strongly in 2013. The growing popularity of noodles is thanks to its convenience and diverse product range. Noodles is a good solution for students and young office workers who usually prefer quick meals as they have less time and low interest in preparing and cooking meals as a result of their increasingly busy modern lifestyles. This report looks at the category in the country.
Confectionery Market in Vietnam: Databook to 2017
As living standards have risen in Vietnam over the last decade, so western consumption habits have formed and one sector is reaping the benefits: confectionery. Multinational companies are thriving in the chocolate category, although local firms like Hai Ha Confectionery and Bibica are carved out strong positions in sugar candy and gum.
Baby Food in Vietnam
Economic growth slowed in 2013 in Vietnam but, according to Euromonitor, baby food will retain its healthy growth. Indeed, typically Vietnamese parents, especially those living in big cities, only have one or two children, which makes them more willing to pay for more expensive products for their children, as this report shows.
Packaged Food in Vietnam
This Euromonitor report covers the broader packaged food space in Vietnam, where, it notes, the market saw a rise in promotions in 2013 as the country's economy slowed. The report identifies the leading companies and brands and offers strategic analysis of key factors influencing the market – be they pricing issues, distribution challenges or new product development It also offers forecasts to 2018.
Vietnam Food and Drink Report Q2 2014
The authors of this report, Business Monitor International, says its outlook for Vietnam's economy in 2014 is positive. Recently released macroeconomic data shows a strong rebound in domestic consumption, which is felt across a wide spectrum of consumer industries. The consumer is expected to benefit from rising inflow of remittances and suppressed levels of inflation over the coming quarters.