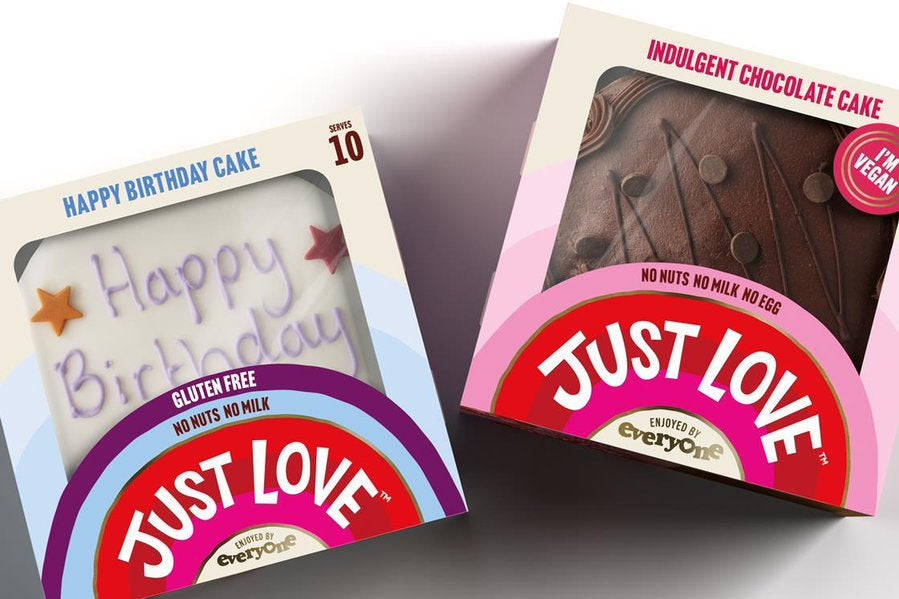 The founder and CEO of UK nut-free cake business Just Love Food Company has urged the food industry to adopt more rigorous standards on allergen labelling.
Mike Woods, who established the south Wales-based business in 2009 after his children were diagnosed with life-threatening nut allergies, believes packaging and labelling changes are needed to ensure people do not become seriously ill, or even die, after eating the wrong thing inadvertently.
"There are still too many recalls and incidents to say it's okay," he told Just Food.
The near-£6m ($7.4m) turnover business, which specialises in celebration cakes, has just undergone a rebrand and now uses the tagline 'no nuts, no milk, Just Love'.
Its new packaging will hit shelves next month in all major UK supermarkets.
Just Love Food Company points out that two million people in the UK are now cited as living with some form of food allergy while 10% of UK consumers are following a gluten-free diet.
The company launched the UK's first nut-free celebration cake in 2010 and the country's first vegan (nut-, milk- and egg free) celebration cake in 2019.
Its new branding features "crystal clear" allergen and dietary need communication for each cake. Every pack comes with an allergen label printed on the base which can be cut out and placed next to the cake.
Woods believes the UK government and the food industry itself need to redouble efforts to make information about allergens clearer on packaging.
"This needs to be front and centre of labelling. 'May contain' is a broad terminology," he said.
"The government has a role here. The [government's] Food Standards Agency has done some good things, including a survey into how these things work. The government should listen, observe and influence the food industry. It should be part of the process.
"The different language used in labelling makes it confusing to consumers.
"There are too many incidents [linked to consumers with allergies]. The people who have gone to hospital has doubled in the last ten years."
Just Love Food Company, which has 93 employees and is backed by investors including the Development Bank of Wales, has two distinct ranges – one which is predominantly sold as gluten-free and one which is vegan. Both are nut-free.
"It's quite a lot of effort as we manufacture these on different days using different equipment. We clean down overnight when we could be making things," Woods said.
Looking towards the future growth of the business, Woods is eyeing foreign markets and different cake categories.
"We've got eyes on expansion outside the UK and are studying where this issue [allergens] is very prevalent," he said.
"And we are focusing on celebration cakes this season but with the messaging around 'one cake for everyone' we could move into other cake sectors."