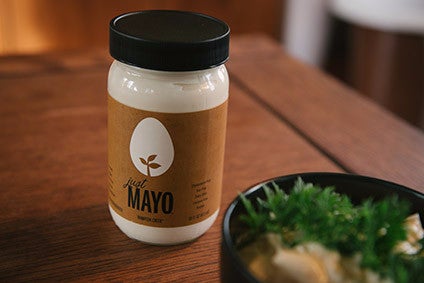 US eggless mayo maker Hampton Creek is reportedly looking to raise fresh capital to fund expansion plans.
According to Bloomberg, citing unnamed sources said to be familiar with Hampton Creek's plans, the Just Mayo owner is looking to raise about US$200m to fund its expansion in the vegan sector. According to the newswire, Hampton Creek plans to sell products including plant-based oysters, blue cheese and children's snacks. The plan involves raising its portfolio from 64 to 600 products.
According to one of the sources, Hampton Creek has been trying to tap new sources of capital from entities including private-equity firms, General Mills' investment arm 301 Inc. and venture capital firm Khosla Ventures.
Hampton Creek did not return request for comment. General Mills could not be reached for comment at time of press.
At the end of 2014, Hampton Creek raised US$90m with funding from existing investors Horizons Ventures and Khosla Ventures, plus new investors including Taiwan food group Uni-President Enterprises. In 2015 the firm received a further US$15m from Japanese conglomerate Mitsui & Co.
Hampton Creek had, in 2014, been embroiled in a battle with Unilever regarding its Just Mayo brand with Unilever claiming the egg-free product violated labelling regulations. The Hellmann's maker filed a lawsuit against the company in November 2014. Unilever later dropped the suit and subsequently launched its own egg-free mayonnaise or "dressing" this year.
Hampton Creek was investigated by the US Food and Drug Administration over the claims. The FDA later ruled Hampton Creek could continue to use the Just Mayo name on its eggless mayo.