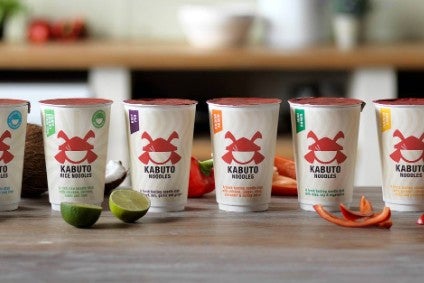 UK instant-noodle supplier Kabuto Noodles has secured a notable new listing in France and is weighing up new markets to add to its international roster.
Bristol-based Kabuto, which has been undergoing market tests in France, has struck a deal with retailer Franprix to sell its instant noodles in more than 120 stores.
The company is present in more than ten markets and is looking to exports as one driver of its sales. Kabuto is hoping to hit GBP4m (US$5.1m) in turnover by the end of March 2019 and is targeting a top line of GBP10m by 2020.
"We've been looking at markets as far afield as Australia," Kabuto marketing director Bruce Rowland said. "They're quite keen on our gluten-free flavours. We're having a look at that and seeing if it's feasible."
Rowland indicated Kabuto could enter what would be, for the business, a major new market in the new year, although he said the company was at present unable to disclose where. "[There's] potentially one big one we're working on at the moment but we can't announce anything yet. That could be huge for us. We'll wait and see."
The listing with Franprix builds on Kabuto's tests in the market, Rowland explained. "We've been in a small amount of stores. We've been testing things really. When we look at our packaging, do we go the whole hog and work the packaging so it's French language, or can we put labels on our sleeves? We've been testing the waters, so the number of stores has been quite small – twenties and the thirties, so this is quite a significant step up."
In the UK, Kabuto, owned by founder Crispin Busk, is planning to bring out a pot noodle range aimed at children between ages five and 12.
Kabuto Kids will be launched in February in two flavours: Happy Chicken Noodles and Lucky Vegetable Noodles.
Rowland said: "We're growing really nicely at the moment. We're looking at new categories in the new year."