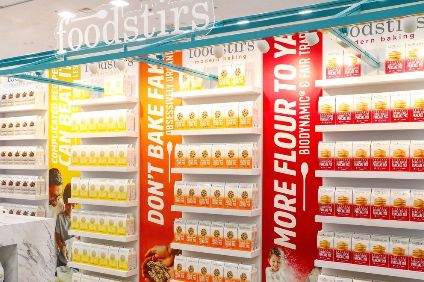 German confectioner Katjes Group has bought a 5% stake in Californian start-up Foodstirs Modern Baking, which was co-founded by actress Sarah Michelle Gellar.
Organic bakery Foodstirs, based in Santa Monica, was set up by the Buffy the Vampire Slayer and I Know What You Did Last Summer actress along with its current CEO Galit Laibow and Greg Fleishman.
Its products are already sold in more than 15,000 stores in the US, including branches of Whole Foods Market, Kroger and Target, and also via Amazon.
The company uses biodynamic and Fairtrade-certified ingredients sourced directly from the producer. Its cocoa comes from small family farms in South America.
Katjes has invested an undisclosed amount in the company via its venture capital fund Katjesgreenfood, which backs innovative start-ups, often those using alternative food sources.
The fund's CEO Dr Manon Littek said: "Foodstirs is the first clean-bake product in the US and will revolutionise the conventional bakery market with its sustainable philosophy."
Foodstirs CEO Laibow said. "We founded Foodstirs because we were looking for a meaningful way to do something with our children, and the best place is the kitchen, the heart of every home."
Foodstirs is the second US holding in Katjesgreenfood's portfolio after muesli business Seven Sundays.
Read Big Food's stake in the future – in-house venture-capital funds.