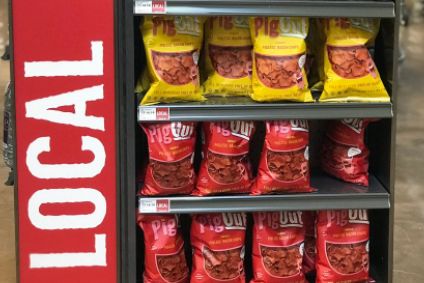 Katjesgreenfood, the venture fund of German confectionery group Katjes, has invested in PigOut, the new US plant-based food start-up business set up by former Hampton Creek co-founder and Beyond Meat product developer Dave Anderson .
Alternative protein specialist Anderson's new venture, launched in conjunction with Bill Glaser, is aiming to disrupt the US$30bn US bacon market with plant-based meat alternative products such as Pigless Bacon Chips.
Its products are made using baked and seasoned mushroom, and PigOut claims its 'bacon' chips contain 73% less saturated fatty acids and 68% less salt than real bacon.
Katjesgreenfood, as its name suggests, puts money into up-and-coming food brands with an eye on innovation and alternative food sources. The details of its investment in PigOut have not been disclosed.
Dr. Manon Sarah Littek, managing director of Katjesgreenfood, said: "PigOut is the next game changer in the alternative protein market and has the potential to disrupt the $30bn US bacon market. With this investment, we are continuing the corporate DNA of Katjes, which has been removing gelatin from its products since 2010."
Anderson and Glaser, founders of Outstanding Food – PigOut's parent company – said in a joint statement: "With Katjesgreenfood, we have an impact investor on board who shares our mission and vision and actively supports us as a thought leader to revolutionise the market for plant-based products."
Beyond Meat is known for its plant-based meat alternative products – such as the Beyond Burger – while Hampton Creek, now trading as Just, manufactures egg alternative products.
Read: Big Food's stake in the future – in-house venture-capital funds