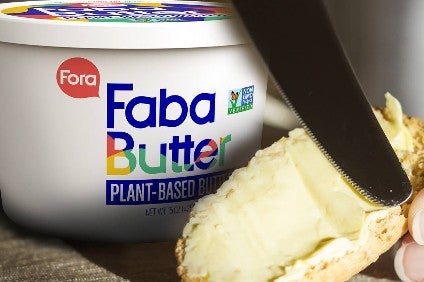 Katjesgreenfood, the fund set up by Germany-based confectioner Katjes Group to invest in up-and-coming suppliers, has backed Fora, a maker of vegan butter in the US.
Fora has closed a round of financing, which raised US$1.4m, in which Katjesgreenfood participated alongside sustainability-focused investors New Crop Capital and Blue Horizon.
Brooklyn-based Fora markets vegan butter under the FabaButter brand.
"It's the first vegan butter internationally that really tastes like butter," Katjesgreenfood CEO Manon Littek said. "Our strategy is to bring together the whole movement of sustainability on the question of how to feed the world with a rising population and scarce resources and bringing down energy consumption on the one hand and on the other hand with the trend of personalisation where new brands establish themselves.
"For us, we say 'OK, where does it meet?' With FabaButter, you have the topic of sustainability because it's not made out of cow's milk, which uses a lot of land and resources and, on the other hand, it's a very strong brand with an exceptional taste."
Littek said Katjesgreenfood can help Fora "internationalise and bring a new, European perspective to the table". She added: "One topic is to help them build a brand. We will help them with sales and branding."
Fora, which uses aquafaba and coconut to make its vegan butter, was set up earlier this year.
New Crop Capital focuses on backing companies that manufacture foods not derived from animals and its recent investments include New York plant-based 'seafood' business Good Catch.
Blue Horizon is also an investor in Good Catch, while it has also supported Just, the US company formerly known as Hampton Creek which makes plant-based foods.
Fora is the seventh minority investment made by Katjesgreenfood, which Katjes Group set up two years ago to invest in fledgling companies producing food in more sustainable ways.
Katjesgreenfood's other investments include German vegan retailer Veganz and two other US firms – muesli manufacturer Seven Sundays and organic baking business Foodstirs Modern Baking, which was co-founded by actress Sarah Michelle Gellar.
Katjesgreenfood is one of three divisions of the family-owned Katjes Group, alongside Katjes Fassin and Katjes International.