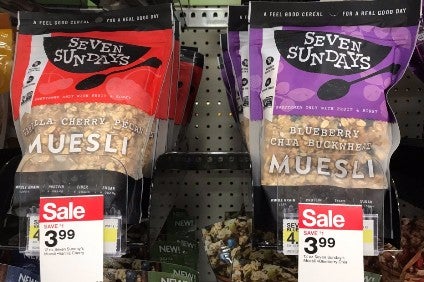 Katjesgreenfood, the investment arm of German confectionery giant Katjes Group, focused on "sustainable food", has acquired a 15% stake in US muesli firm Seven Sundays.
Set up in 2011, Minneapolis-based Seven Sundays is the "best-selling" muesli in the US, Katjesgreenfood claimed.
Despite stagnant overall breakfast cereal sales in the US, Katjesgreenfood described the muesli segment as a "still young category".
Dr. Manon Littek, the CEO of Katjesgreenfood, said: "The products of Seven Sundays are gluten-free, all natural and are obtained from regional farmers. We are delighted that the most popular German-speaking breakfast category, muesli, is now continuing to record success in the American market."
Seven Sundays is the fifth business in which Katjesgreenfood has invested. Last month, Katjesgreenfood snapped up 10% of German porridge firm Haferkater.
Katjesgreenfood also owns an 11% stake in Germany-based vegan supermarket chain Veganz. It took its stake from 5% to 11% through a share purchase announced in January.