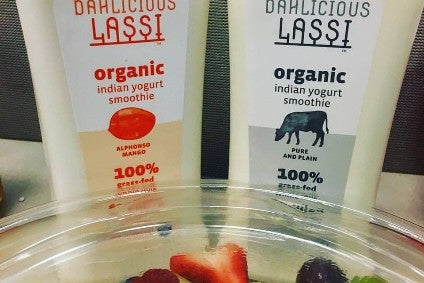 US-based investment fund KEEN Growth Capital has acquired a "material interest" in DAHlicious, which makes organic Indian style lassi and yogurt.
In making the investment, the details of which were not disclosed, KEEN Growth Capital said it is increasing its focus in the areas of "nutritional well-being and disease mitigating, and life-enhancing science and technology".
According to KEEN, the company's traditional, slow-cultured process, 'DAHlicious Flavor Note', and unique India-styled platform make its product lines a leader in the yogurt category in North America. Its products can be found on the shelves of Costco, Costco Canada, Market Basket, select Safeway stores, Whole Foods and speciality grocery stores.
The fund's managing partner, Jerry Bello, said: "We are thrilled to partner with DAHlicious, the only India-style yogurt company of its kind. DAHlicious' slow-cultured process delivers extraordinary probiotic counts, flavour and texture, setting this brand apart in the diary category."
KEEN invests in early stage food-related companies and is particularly focused on healthy snacking and functional foods, and firms that "positively impact consumer health, environmental and community wellness, and long-term disease mitigation".
Tom Burns, chief executive at the lassi maker said: "We know this new relationship will expedite the growth of DAHlicious in North America by adding the expertise and access to further penetrate the CPG yogurt space."
Its products include an India-style organic grass-fed whole milk lassi yogurt drink, an organic almond milk lassi yogurt drink, and organic almond milk cup yogurts.