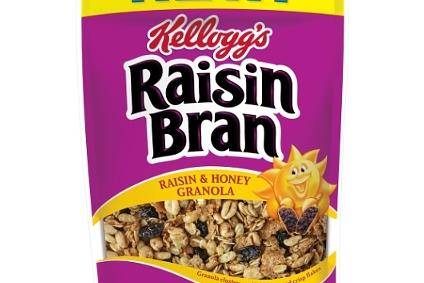 Kellogg today (1 November) lowered its top-line forecast for 2016 after another quarter of falling sales, although the Special K and Pringles owner upped its estimate for the underlying earnings per share it expects to generate this year.
The US company said it had "modestly softened" its net sales forecast. It now expects net sales to grow "a little less" than 4% on a currency-neutral comparable basis and be down about 1% when excluding its operations in Venezuela. Kellogg said the change to the latter metric was a reduction from its previous guidance of net sales being flat year-on-year.
Kellogg's "currency-neutral comparable" net sales remove factors including exchange rate changes, M&A activity and differences in shipping days.
Kellogg increased its forecast for its full-year earnings per share on a currency-neutral, comparable basis. The company raised its guidance range by "about a nickel" to $4.16-$4.23, which it said reflected the lower effective tax rate it realised during the third quarter.
The Eggo maker's guidance for currency-neutral comparable operating profit was unchanged. The company still believes the metric will come in at "the high end" of its two previously communicated ranges: growth of 15-17%, or 4-6% when excluding its operations in Venezuela. Kellogg said the fact it had left that forecast for reflected "better-than-anticipated margin expansion", which it said "should offset the impact of net sales coming in lower than expected".
The new guidance came alongside Kellogg's results for its third quarter, which ran until 1 October. On a reported basis, Kellogg's net sales fell 2.2% to $3.25bn. On a comparable basis, net sales were down 2.5%. or by 2.6% when excluding the Venezuela business and by 1% when stripping out exchange rates.
Reported operating profit was up 22.9% at $410m. On a currency-neutral, comparable basis, operating profit grew 6.8% to $499m.
Kellogg's reported net income stood at $292m, up 42% on the third quarter of 2015. The company's currency-neutral, comparable net income increased 18.3% to $356m.
John Bryant, Kellogg's chairman and CEO, said the company's third-quarter results "exceeded our expectations, on the strength of good operating margin expansion and a favorable tax rate".
He said: "Our sales were affected by trade-inventory reductions in US cereal, a challenging UK market, and portfolio transformations that have taken longer than anticipated to execute. However, we did realise growth in US snacks, US specialty channels, Latin America and Asia-Pacific – and every region posted operating-profit margin expansion."