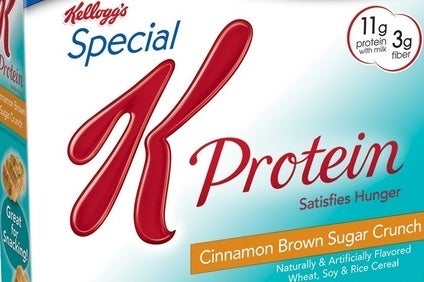 Kellogg today (12 February) lowered its long-term sales target, sending shares in the US cereal-to-snacks group sliding in New York.
The Special K maker, which is facing declining breakfast cereal markets in some developed economies, has set a target for annual revenue growth of 1-3%, down from its previous estimate of 3-4%.
Kellogg maintained its long-term targets for annual comparable operating profit growth of 4-6% and for currency-neutral comparable earnings per share to increase 7-9% a year.
Shares in Kellogg were down 3.54% at US$63.95 at 10:11 ET
The new forecast came alongside Kellogg's 2014 financial results, which outlined a year of falling sales and profits.
Net income reached $633m for the year to 3 January, down from $1.81bn a year earlier. The company's operating profit more than halved from $2.84bn to $1.02bn. In the fourth quarter, Kellogg booked a non-cash mark-to-market adjustment of $822m, primarily driven by the impact changes in interest rates had on its pension plans. Costs from the group's Project K restructuring programme also weighed on results.
Kellogg's comparable operating profit, which excludes factors including M&A, foreign exchange and Project K, fell 3.9%.
On a reported basis, net sales slid 1.4% to $1.6bn. Comparable net sales dropped 2%.
Kellogg saw sales from both its morning foods and snacks divisions fall in North America.
Internationally, the group saw annual and fourth-quarter comparable net sales rise in Latin America. In Europe and Asia Pacific, Kellogg's comparable net sales rose over 2014 as a whole but dropped in the fourth quarter.
"In 2014, we have been addressing the challenges we have faced in some of the company's developed businesses," president and CEO John Bryant said. "Project K, our four-year efficiency-and-effectiveness program, is providing flexibility, and we have invested in brand-building initiatives, in-store sales capabilities, and new, improved products. We expect that 2015 will be a rebuilding year for us and that our investment will provide a strong platform for future growth."