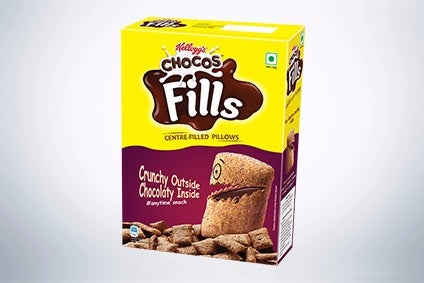 Kellogg is targeting breakfast eaters and snack lovers with the latest addition to its range of cereal products on sale in India.
The US giant has launched Kellogg's Chocos Fills, which it describes as "a crunchy cereal snack with a delicious chocolatey filling".
The new product is similar to two other brands in the international Kellogg stable, Trésor and Krave, which are sold in markets in Europe and North America.
"Some products, like this one, are inspired by global formats but are designed and manufactured for Indian tastes," Kellogg's Indian arm told just-food. "The product has been developed for the Indian consumer after extensive consumer research."
In a statement, Mohit Anand, the managing director of Kellogg's business in India, described the strategy behind launching Chocos Fills in the country. "Kellogg's Chocos Fills gives us an opportunity to go beyond the breakfast cereal category and strengthen our snacking portfolio. Given the growth that the snacking industry has seen over the years, the size of the opportunity is huge and Kellogg's Chocos Fills helps us to tap into a bigger pool and serve more consumers," Anand said.
Chocos Fills is sold in a 32g pack priced at INR20 (US$0.31) and a 250g pack at INR185. The cereal is available "in major general and modern trade outlets across all markets in the country", Kellogg added.
Anand was appointed the MD of Kellogg's Indian business in August. The former Unilever and Procter & Gamble executive joined Kellogg after Sangeeta Pendurkar resigned.
Kellogg is set to report its global third-quarter and nine-month financial results next week. When the company published its second-quarter and half-year numbers in August, it said its second-quarter sales in India had fallen "modestly" due to "short-term disruption" from the new, nationwide goods-and-services tax introduced in the country on 1 July.
The group's third-quarter and nine-month results will be the first set of numbers it has put to the market since new, global CEO Steve Cahillane took the helm on 2 October.