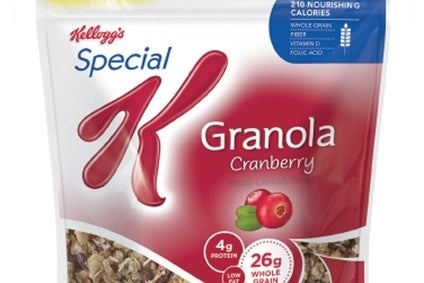 US cereal group Kellogg aims to tap into what it said were the "hottest trends" in the US with the launch of more than 40 products.
According to Kellogg, more people are looking for "simple, recognisable" ingredients. Kellogg is rolling out: Kellogg's Origins: a line of six cereals, granolas and muesli that are prepared simply, with no artificial flavours or hydrogenated oils. The range includes blends of ancient and traditional grains – oats, barley, spelt, quinoa, and Kamut brand Khorasan wheat – plus fruits, nuts and seeds.
The company also wants to deliver "portable nutrition" as increasing numbers of US consumers eat on-the-go. In a bid to achieve this Kellogg is launching: Special K Chewy Nut Bars in two flavours – cranberry almond and chocolate almond; Kellogg's Nutri-Grain Breakfast Biscuits in chocolate chip and apple cinnamon.
Kellogg also aims to deliver products that provide "positive nutrition" and is launching products across the Special K line-up it believes will boost sales of a brand under pressure in recent quarters. New products include: Special K Low Fat Granola with cranberries; Special K Breakfast Medley breakfast sandwiches; and Special K Nourish Honey Nut Crunch hot cereal.
Elsewhere, Kellogg intends to appeal to the growing number of people who are veducing their meat intake – more than half of Americans, according to the company. Under the MorningStar Farms brand Kellogg is bringing out three new vegetable-based items: MorningStar Farms Tuscan Greens and Beans Veggie Bow; Spicy Black Bean Enchilada Veggie Bowl; and Southwest Sunrise Breakfast Sandwiches.
Elsewhere in its portfolio, Kellogg aims to revitalise sales through product development including new Keebler cookies and Cheez-it innovation.
Kellogg is not the only US food maker attempting to tap into new consumer trends in the US. General Mills recently announced that it will remove all artificial colours and flavours from its cereal brands in the country.