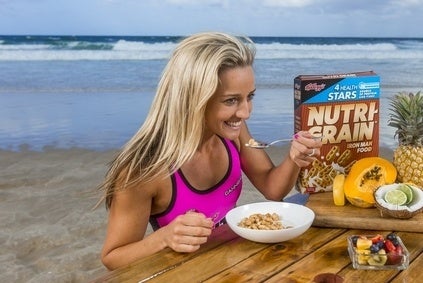 Kellogg has revamped its Nutri-Grain Original brand in Australia with a new recipe that the company believes offers a healthier option for consumers.
The US giant has reduced the level of sodium and sugar in the product and agreed to put key dietary information on the front of pack. The relaunched line has received a rating of four under the Health Star rating scheme in place in Australia.
The voluntary labelling programme was introduced last year by both the Australian and New Zealand governments to improve the health standards of products and improve understanding among consumers about what is in the food they buy.
Kellogg said the revamped Nutri-Grain Original was "just as delicious as it always has been" but that it welcomed its Health Star rating as it matched its "vision to constantly look for ways to improve its products by giving consumers more of what they want, and less of what they don't".
Tamara Howe, director of innovation within Kellogg's Australian arm, said it had taken 18 months to finalise the new recipe and ensure it had the right balance between taste and nutrition. "We trialled many different recipes because we knew we had to get it right," she said.
A recent addition to the Nutri-Grain range, Nutri-Grain Edge, which was launched last month, has also been awarded a Health Star rating of four.
The revamped Nutri-Grain Original goes on shelf from 19 October with a RRP of A$4.59 (290g) and A$7.99 (805g).
The move on Nutri-Grain follows an announcement from Kellogg in Australia earlier this year when it said all its cereals on sale in the country and in New Zealand would carry Health Star ratings on the front of pack from one and a half to five stars. Kellogg claims 70% of its cereal range has a Health Star rating of four or five.