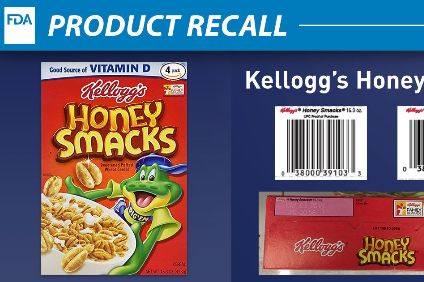 Kellogg is recalling an estimated 1.3m cases of its Honey Smacks cereal, which has been linked to a salmonella outbreak.
Kellogg said the 15.3oz and 23oz packs which are being voluntarily recalled "have the potential presence of salmonella" and pose a possible health risk.
It said no other Kellogg products are impacted by this recall.
Kellogg said it launched an investigation with the un-named third-party manufacturer that produces Honey Smacks immediately after being contacted by the US Food & Drug Administration (FDA) and Centers for Disease Control (CDC) regarding reported illnesses.
According to the CDC, use or consumption of products contaminated with salmonella may result in serious illness. It can also produce serious and sometimes fatal infections in young children, frail or elderly people and others with weakened immune systems. Healthy individuals infected with Salmonella can experience fever, diarrhoea, nausea, vomiting and abdominal pain. In rare circumstances, infection with salmonella can result in the organism getting into the bloodstream and producing more severe illnesses.
The affected product is distributed across the US and also has limited distribution in Costa Rica, Guatemala, Mexico, the Caribbean, Guam, Tahiti and Saipan.
Kellogg is asking people who purchased potentially affected product discard it and contact the company for a full refund.
The FDA said it worked with Kellogg to issue the recall after preliminary evidence linked the product to more than 60 illnesses.
"The FDA is working with the company to quickly remove this cereal from the marketplace," the agency said in a statement.
It said it has asked Kellogg to request that all retailers of the product immediately put up signs saying Honey Smacks cereal has been recalled and to remove the potentially contaminated product from shelves.