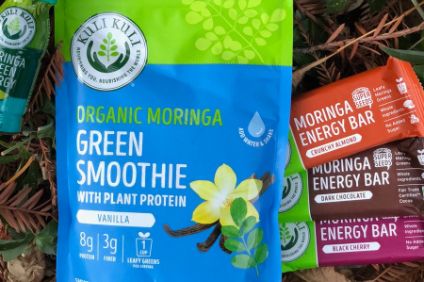 US-based Kuli Kuli, a pioneer of the superfood moringa, has closed a US$5m funding round led by cereal giant Kellogg and product development company Griffith Foods.
Kellogg, which has invested in California-based Kuli Kuli previously, has again backed the business through its Eighteen94 Capital venture capital fund.
Other institutional investors included Canada-based InvestEco, Chicago-based venture capital fund S2G Ventures, two early-stage venture-capital firms – Authentic Ventures and VilCap Investments – and Rocana Venture Partners, an investment firm supporting "better living".
Kuli Kuli also received investment from women-focused groups including Portfolia, Astia Angels, Next Wave Impact and individuals from Golden Seeds.
The company said it will use the money raised to help launch its moringa ingredient arm while continuing to scale tits moringa powder, bars and shots business.
Moringa is the fruit of the moringa tree which is widely cultivated in tropical and sub-tropical climes.
Kuli Kuli describes it as a versatile ingredient that adds protein, an array of vitamins and health benefits in commercial applications from savoury to sweet. It believes that moringa will soon be found in many products from beverages to desserts.
US-based ingredients supplier Griffith Foods plans to include moringa in its products for foodservice customers, processors, retailers and distributors across 30 countries.
Over the past five years, Kuli Kuli has pioneered moringa in the US, building a supply chain of small moringa farmers while selling moringa products in 7,000 stores.
Eighteen94 capital led Kuli Kuli's Series A financing in 2017, after which Kuli Kuli's retail business tripled.
Lisa Curtis, Kuli Kuli's founder and CEO, said: "We're thrilled to continue to partner with Kellogg to grow our retail business while partnering with Griffith Foods to expand into the foodservice and ingredient space,"
Simon Burton, managing director of Eighteen94 Capital, said: "Kuli Kuli was eighteen94's first investment and has served as a model for how large food companies can partner with start-ups to the benefit of both. We're thrilled to grow and strengthen our partnership with Kuli Kuli."
just-food's guide: Big Food's stake in the future – in-house venture-capital funds