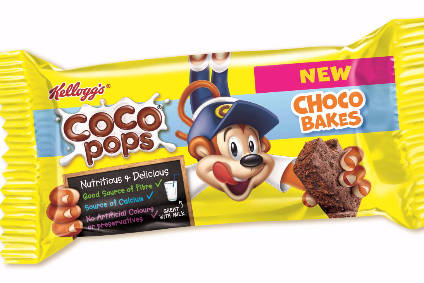 Kellogg has launched a Coco Pops-branded "brownie-style bake" in the UK to target children looking for snacks after school.
The cereal and snacks group said the development of Coco Pops Choco Bakes is an attempt to "dominate both before-school breakfast and after-school snacking".
Citing IRI data to the end of January, Kellogg said its sales of Coco Pops cereal bars were up 8% year-on-year.
However, the company said around six out of ten of the bars were consumed at breakfast. Pointing to data from Kantar Worldpanel from 2015, Kellogg said after-school snacking was the "fastest-growing snacking occasion among kids".
The bars weigh 38g and contain just 142 calories. Some of the bars will be sold in price-marked packs of GBP0.39. A five-bar multipack will also be available.
"We expect the Bakes to be highly incremental to the Coco Pops brand. Importantly, we also expect the Bakes to be incremental to the category," Nick Dawson, Kellogg's sales director for the speciality channel in the UK, said. "The Coco Monkey character appeals to a wider age range of children in comparison to other kids' products currently on the market."
Kellogg's UK arm classes the speciality channel as retailers including convenience stores, discounters and wholesalers.