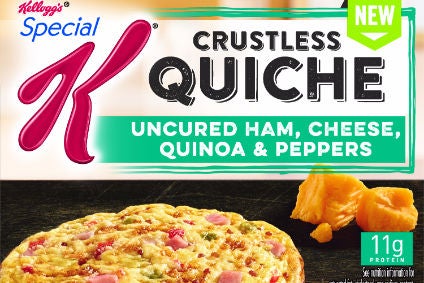 Kellogg is foraying into new spaces with the launch of a quiche range under its Special K brand in the US.
Special K Crustless Quiches are said to be "an entirely new breakfast option that provides a warm and delicious way to start the day".
Each single-serving quiche provides 10 to 11 grams of protein and is ready from the microwave in two minutes.
The range features three variants: Uncured Ham, Cheese, Quinoa & Peppers; Sausage, Quinoa, Peppers, Mozzarella & Asiago; and Portabella, Quinoa, Parmesan, Asiago & Kale.
"Special K fans are seeking positive nutrition that fortifies them for the day ahead," said Trinh Le, marketing director for Kellogg frozen foods. "Our new Crustless Quiches offer them an exciting twist on a classic breakfast, made with nourishing and satisfying ingredients such as eggs, chopped vegetables, quinoa and cheese."
The move follows Kellogg's recent efforts to reposition Special K to try to change the perception of it as a "diet brand" and instead bring it into the wider, on-trend realm of wellness.
In the last year Kellogg has launched Special K Nourish in the US and Canada, a range of cereal and bars with "real ingredients" and no artificial colours or flavours. The cereal contains rice, quinoa, granola, almonds and real fruit. It also launched a granola version of its Special K cereal and a Special K Nourish hot cereal as well as introducing Kellogg's Origins: a line of six cereals, granolas and muesli that are "prepared simply", with no artificial flavours or hydrogenated oils.
The launch of the quiche range comes alongside the launch of other new products in the Kellogg portfolio including Raisin Bran Granola, Soda Inspired Pop Tarts and Cheez-It Sandwich Crackers.