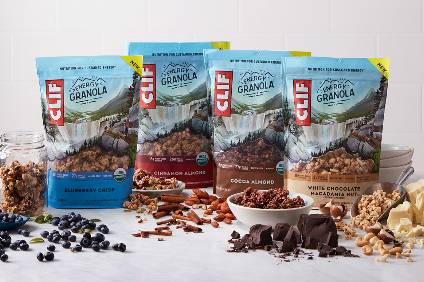 just-food publishes the most notable product development from the international food sector, presented in bitesize format to give you a flavour of the innovation from your peers and competitors announced this week.
Kellogg quietly launches Verival cereal in UK
US-based giant Kellogg has teamed up with Austrian organic supplier Verival to launch a range of breakfast cereal products in the UK.
Kellogg, which is a shareholder in Verival and handles the Austrian firm's sales and distribution in select European markets, has secured UK listings at Sainsbury's and Ocado for granola and muesli lines.
"A couple of years ago, Kellogg entered a partnership with Verival, which wants to expand its business across Europe and Kellogg, as we wanted to move into more progressive area, we thought there was an opportunity to come together" Nick Dawson, a Kellogg sales director in the UK that has headed the launch, told just-food.
There is no mention of Kellogg on the packaging of the Verival products on sale in the UK, a range that includes a spelt granola and an orange and acerola granola, products currently priced at Sainsbury's at GBP4.
"Verival still own the brand, the marketing and the supply; we're helping them with the sales and execution. Verival want to retain that authenticity as that's what a lot of shoppers and consumers are looking for."
Some products in the range, made in the Austrian state of Tyrol, could soon be launching in Ireland, with Kellogg looking at plans to roll out across the Irish Sea, Dawson added.
Clif Bar enters breakfast category amid new product launches
US organic snack maker Clif Bar & Co. is debuting three new products this month including its first entry into the breakfast category.
Clif Energy Granola contains organic oats, almonds, seeds, dried fruit, and eight grams of plant-based protein, and comes in four flavours: blueberry crisp, cinnamon almond, cocoa almond, and naturally-flavoured white chocolate macadamia nut. The cereal is gluten-free, contains 25 grams of whole grains, and is available in a 10-ounce pouch at a recommended price of US$5.49.

Clif Fruit Smoothie Filled Energy Bar is a blend of fruit flavours and nut and seed butters in strawberry banana, wild blueberry Acai and tart cherry berry. MSRP $1.79 per bar.
Clif Sweet & Salty Energy Bar uses the firm's original flavours, along with additions: chocolate chunk with sea salt, caramel toffee with sea salt, and peanut butter and honey with sea salt. MRSP $1.49 per bar.
Unilever's Indian unit launches Ayurveda-inspired breakfast mixes
Unilever's Indian unit is moving into the health and natural food segments with the launch of a range of ready-to-cook breakfast mixes inspired by the Hindu system of well-being – Ayurveda.
Hindustan Unilever is launching the high protein and fibre range under its Ayush Foods brand, with the mixes using natural ingredients such as millet, pulses, cow's ghee, vegetables and spices.
Aval Millet Pongal, Masala Millet Upma and Classic Millet Khichdi, which are all free from preservatives, will initially be available in Chennai and via e-commerce channels, but there are plans to expand the products' reach in India.
Unilever debuts Marmite-flavoured breakfast biscuits in UK
Unilever is moving into the breakfast category with the launch of Marmite-flavoured wholegrain biscuits in the UK.
The consumer goods giant teamed up with Dorset-based bakery Thomas Fudge's to launch Marmite Breakfast Biscuits, which will Target on-the-go consumers.
Marmite Breakfast Biscuits contain no artificial colours, flavours or preservatives, and are suitable for vegetarians. They are available in 252-gram packs, holding six portions of two biscuits for an recommended retail price of GBP2.79 (US$3.74).
Chloe Irwin, licensing director at Unilever UK & Ireland, said: "Breakfast still remains the number one eating occasion for Marmite, but this is typically on toast at home. As eating habits are changing, we wanted to ensure we can offer Marmite fans an on-the-go alternative."
… and a gazpacho product launched under Unilever's Knorr brand in Spain
Meanwhile, in Spain, a gazpacho product has been launched under Unilever's Knorr brand.
Two SKUs – original and organic – have hit shelves, with El Corte Ingles and Carrefour agreeing listings.
The gazpacho has been developed by Spain-based Papila, an independent company – set up after an agreement with Unilever – to produce and distribute gazpacho and Mediterranean dishes in Spain and internationally under the Knorr and Starlux brands.
UK ice-cream firm Oppo goes into chilled desserts
Oppo Brothers, the UK ice-cream supplier, has broadened its product range and launched its first line of chilled desserts.
The company, based in London, has secured a listing at Sainsbury's for three cheesecakes.
"We want to change the way people see indulgent food, and found that amazing flavours and low calories should be in the same mouthful", says co-founder Charlie Thuilllier. "We've shown this with ice cream, which is now in over 4,500 stores and eight countries. Now it's time to shake up the dessert aisle."
The cheesecakes, which Oppo says contain 159 calories, are priced at GBP1.90 (US$2.54).
Ferrero adds to Sweetarts range in US
A line of gummies has been added to the Sweetarts confectionery range on sale in the US.
The Sweetarts brand is now owned by Ferrero after the Italy-based confectionery giant snapped up Nestle's US confectionery business earlier this year.
Benjamin Jones, a marketing associate for Sweetarts, said the company had surveyed students in the US and found more than three-quarters "prefer gummy candies over chewy, hard or licorice candy formats".
Sweetarts Gummies and a sour alternative can be found at retailers, including Target, Walmart and Family Dollar. They are available in four-ounce share packs (at a recommended retail price of US$1.69), 5.25oz bags ($1.99) and ten-ounce packs ($2.89).
Australia's SPC Ardmona to launch pouch products
SPC Ardmona, the Australia-based food manufacturer, plans to roll out a range of products sold in pouches at home and overseas.
The company, part of drinks group Coca-Cola Amatil, tweeted this week: "At SPC we're thrilled that our latest investment, our pouch filling line, is up and running. This means Australian and overseas consumers will soon be able to buy our convenient pouch range containing fruit from the GV [Goulburn Valley]."
The packs – sold in 90g, 120g and 140g sizes – contain a mixture of fruit.
Nu-Go Nutrition debuts paleo protein bars with eggs whites
US-based NuGo Nutrition is launching paleo protein bars with real fruits, nuts and egg whites.
NuGo Egg White Protein Bars use three non-GMO egg whites providing 12-14 grams of protein. They are non-dairy, gluten-free and OU Kosher pareve.
The bars are available in four flavours with no added sugar, soy or any artificial ingredients: Dark Chocolate Sea Salt, Maple Pecan, Blueberry, and Peanut Butter.
Chief executive David Levine says: "As an independent company, we are excited to now offer consumers a better egg white protein bar with exceptional taste and value as an alternative to Kellogg's RXBar."