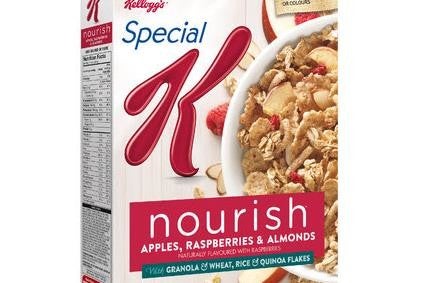 Advertising regulators in the UK have upheld complaints about two advertisements by Kellogg relating to the cereal maker's Special K products and have ruled that the ads breached codes of conduct.
The ASA said that one of the ads for Special K porridge, seen on television in October 2015, featured various scenes of ingredients accompanied by a voice-over that said: "Special K. Full of deliciousness. Full of colour. And now, with pomegranate, pumpkin seeds and raspberries. Our new five grain super porridge is full of goodness."
On-screen text stated that "Special K porridge contains vitamin B2 which contributes to the maintenance of normal skin". However, the ASA said the ad breached regulations because the claim relating to the vitamin B2 "should be presented in such a way that it was clear that it accompanied that general health claim" and be made "next to or immediately following the general health claim". In this instance, the ASA said the specific authorised health claim was shown on screen, "but we noted it disappeared before the general health claim "full of goodness" was stated in the voice-over".
The ASA said the second ad, also seen in October 2015 on Kellogg's website, promoting the Special K range, also breached regulations. The ad stated: "All Special K flakes are made with our unique Nutri K recipe making a nutritious and delicious start to your day."
According to the ASA, regulators supported Kellogg's view that the term "nutritious" highlighted the nutritional credentials of the Nutri K flake. However, from the home page on which the claim first appeared, consumers had to click through a further two pages to reach the dedicated page for Nutri K flakes for further information, the ASA said.
"Without any further information to help consumers understand the context of the claim, we considered they were likely to interpret it as one which implied that Kellogg's Special K was 'nutritious' because of its nutritional content and was, therefore 'good for you', the ASA said.
"As such, we considered the claim 'our unique Nutri K' recipe mak[es] a nutritious … start to your day', was likely to be understood as a reference to the general benefits of Nutri K flake products for the overall health of consumers. Therefore, it should have been accompanied by a specific authorised health claim."
The ASA has told Kellogg that neither of the ads must appear again in their current form. "We told Kellogg Marketing and Sales (UK) Company Ltd to ensure that relevant authorised health claims accompanied any general health claims that featured in their advertising," the ASA said.