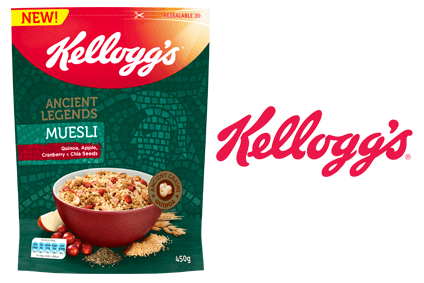 Kellogg is to launch a line of six new ancient grains based cereals in the UK.
The six products will vary from granolas to mueslis and cereals and will hit supermarket shelves nationwide from January 2016.
The Ancient Legends range features grains such as spelt, rye and quinoa.
Ancient Legends marketing manager Ruth Gresty said: "We're really excited about the release of Ancient Legends. A number of companies have released products containing ancient grains, but they tend to be niche offerings which complicate the fixture. People often hear about chia or rye, but then they're shocked by the cost: we're presenting the consumer with a great value set of products that they can purchase in the knowledge that they'll have the scrumptious taste that Kellogg's can provide.
"We want to see these products together in the granola and muesli section, where we expect to drive a lot of impulse purchases, as well as creating long-term interest by telling a compelling brand story. There is something in this range for everyone, and Legends have a much stronger appeal to men than most products in the category."
The Ancient Legends varieties have an RRP of GBP2.99 each (US$4.48).