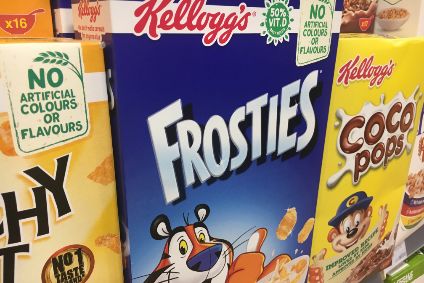 US cereal giant Kellogg has announced it will be adopting colour coded front of pack nutrition labelling on around 80% of its UK breakfast products.
It will apply the scheme to labels on cereals including Special K, Coco Pops, Crunchy Nut, Corn Flakes, Rice Krispies and Frosties.
Shoppers will start to see the new labels appear from January, with all packs changed by early 2020.
Multilingual boxes shared across a number of European countries, where colour coded labels are not well-known, will not carry the new design. This means around 80% of Kellogg's cereals on sale in the UK and Ireland will have colour labelling on the boxes.
Colour coding grades health-impact ingredients such as sugar, with red suggesting a high content level and green a low one.
Oli Morton, managing director for Kellogg's UK operations, said: "Following our announcement late last year to overhaul our cereal in the UK we are now following that up with a new and modern Kellogg pack redesign in 2019.
"As part of this we decided to review our front of pack labelling as for more than a decade we have had black and white icons on the front of our packs. So we surveyed 2,000 people in Britain to ask them about their attitudes towards labelling and what we should do.
"Put simply they said we should change and move to a full colour solution as they want help making healthy decisions, we've listened and now we're acting."

Kellogg points out its decision to change its front of pack labels comes on the back of work by the business to overhaul its breakfast cereals. This includes reducing sugar by 40% in Coco Pops cereal and 20% in Rice Krispies cereal, the removal of artificial colours and the launch of no added sugar and vegan-friendly foods.
The decision to introduce a front-of-pack traffic light-style labelling system on its UK products has been applauded by the UK government's health body and campaigners.
Dr Alison Tedstone, chief nutritionist at the Government's Public Health England body, said: "Clear information is the foundation of healthy choices, so we're pleased that Kellogg is adding traffic lights to its front-of-pack labelling.
"This announcement highlights the importance of helping consumers to make informed choices and we hope other companies will follow suit".
Kawther Hashem, a researcher at campaign group Action on Sugar, did express some misgivings. "We are pleased Kellogg is adopting the colour coded front pack labelling in the UK. However, we are concerned the new design will not apply to 20% of products.
"Mandatory colour-coded labels are one of the most effective ways to communicate nutrition information for fat, salt, sugar and calories. This would ensure companies are held accountable which would drive reformulation and healthier product development."
Dr Linda Greenwall of the Dental Wellness Trust, added: "At a time when a record number of youngsters are being admitted to hospital to have their teeth extracted at a cost of more than GBP36m to the NHS, we welcome this news as a small step in the right direction and urge all food and drink manufacturers to follow Kellogg UK's lead.
"One of the main reasons for tooth decay in children is largely because food and drink products are packed with unnecessary sugar and this is unacceptable."