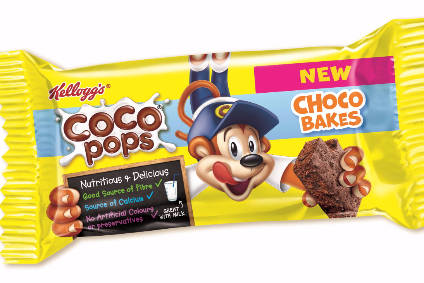 Kellogg has lifted its forecast for underlying earnings per share for 2016 – and raised its target for underlying operating margin for 2017/18.
The new estimates came alongside Kellogg's second-quarter and first-half results, which saw inflation in Venezuela boost its quarterly numbers although there was some underlying sales pressure. The sales results meant Kellogg said its annual sales are expected to come at the low end of its forecast range.
The Special K and Pringles maker raised its full-year guidance for earnings per share, measured on a currency-neutral comparable basis, to US$4.11-4.18, up from its previous guidance of $4.00-4.07.
Kellogg pointed to higher currency-neutral comparable operating profit, which as well as stripping out the impact of exchange rates also discounts factors such as M&A costs and charges from Kellogg's Project K restructruing programmes, is now expected to increase by 15-17% this year. The company's previous forecast was for growth of 11-13%.
The US cereal and snacks giant cited two factors for lifting these metrics on profitability – a better-than-expected first-half profit performance in inflationary Venezuela, plus an increased forecast for operating profit margin for the rest of the business. The company believes its currency-neutral comparable operating profit growth excluding Venezuela will come in at the high end of the 4-6% growth range it had communicated. Kellogg also expects higher savings from its zero-based budgeting programme in North America, along with the roll-out of a similar programme in international markets.
These savings are expected to more than offset the impact of Kellogg's trimmed net sales outlook, excluding its operations in Venezuela. Kellogg expects net sales to come in at the low end of the 0-2% range the company had previously set out.
The group also cautioned it would see more of an impact from foreign exchange than it had previously thought and it pointed to the impact of the UK's decision to leave the EU.
Looking further ahead, Kellogg had set a target for currency-neutral comparable operating profit margin. After expanding its zero-based budgeting programmes, the company now believes the margin metric will improve faster than it had previously thought.
"[Kellogg] now believes it will increase this margin by approximately 350 basis points from 2015 levels, and that it will realise the increase through 2018, an acceleration of two years from its previous guidance," the company said. "This acceleration comes from a combination of expanding Zero-Based Budgeting across North America and International segments, pursuing a more disciplined approach to revenue growth management, and other potential initiatives. These actions are expected to drive accelerated currency-neutral comparable operating profit and earnings growth in 2017 and 2018, even as they contribute to holding net sales flat during that time period."
For the six months to 2 July, Kellogg booked net sales of $6.66bn, down from $7.05bn a year earlier. Second-quarter net sales stood at $3.27bn, versus $3.5bn the second quarter of 2015.
Second-quarter net sales decreased, primarily due to the effect of currency translation resulting from the remeasurement of Kellogg's Venezuelan business in mid-2015. Kellogg said currency-neutral comparable net sales increased "strongly" in the quarter, as a result of inflation-related sales growth in Venezuela. Stripping out the impact of exchange rates, comparable net sales excluding the impact of Venezuela "decreased modestly".
First-half operating profit rose 11.4% to $887m and increased by 9% in the second quarter. Kellogg said quarterly operating profit rose due to "favourable one-time costs", as well as to "a strong performance" in Venezuela and cost savings in North America. Currency-neutral comparable operating profit increased "strongly", with half of the gain attributable to Venezuela and the rest coming primarily from margin growth in North America.
Half-year net income was $455m, compared to $450m in the first half of 2015. Second-quarter net income stood at $280m, versus $223m a year earlier.