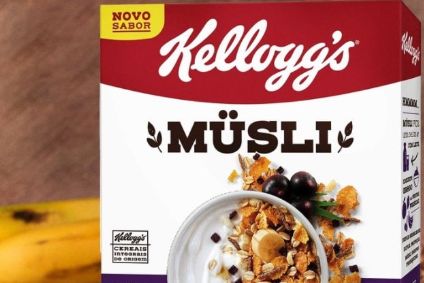 Kellogg lifted its forecasts for full-year sales and earnings today (29 October) after reporting a near-5% rise in underlying net sales in its third quarter.
The US-based cereal and snacks giant has seen Covid-19 continue to fuel its retail sales, while the Pringles maker also pointed to "strong growth" in emerging markets in the third quarter.
In the three months to 26 September, Kellogg's sales were up 4.5% on an organic basis at US$3.47bn. The company said demand for foods for at-home consumption "remained elevated, albeit moderating from the previous quarter", fuelling its sales through retail channels.
That growth, combined with the improved sales in emerging markets, more than offset lower sales through away-from-home customers, Kellogg said.
On a reported basis, Kellogg's third-quarter net sales were up 1.7% at $3.43bn, with the slower rate of growth due to the impact of asset disposals last year and exchange rates.
Lower one-time charges meant the group's operating profit for the three-month period climbed 55.9% to $411m. On an adjusted basis, Kellogg's third-quarter operating profit fell 9.7% to $400m amid higher spending on advertising, promotions and higher "performance-based compensation" for staff.
Kellogg's third-quarter net income stood at $348m, versus $247m a year earlier.
In North America, organic net sales rose by around 3%. Kellogg pointed to growth from its cereals, snacks and frozen foods. In Europe, sales inched up 1% on an organic basis, due to lower demand for on-the-go snacks as Covid-19 continued to limit consumer movement.
Kellogg saw its sales rise 13% in Latin America on an organic basis, helped, it said, by "elevated" demand for cereal in the modern trade and improving snacks sales.
Organic net sales grew nearly 11% in Kellogg's combined Asia Pacific, Middle East and Africa division. The company said growth was "broad-based", adding the increase in its cereal sales outpaced categories in unspecified "key markets".
Kellogg chairman and CEO Steve Cahillane said: "Amidst an uncertain business environment, our strong planning and execution drove better-than-expected financial results and solid in-market performance across all four of our regions in the third quarter. Accordingly, we are raising our full-year outlook for all key financial guidance metrics, even as we increase investment for the future."
The company had predicted its full-year sales would, on an organic basis, grow by approximately 5%. Now, the Special K owner is forecasting growth of around 6%.
Kellogg sees its adjusted operating profit growth coming in at approximately 2%, up from the previous projection of a circa 1% decline.
The Krave maker also gives investors guidance on a metric called "currency-neutral adjusted earnings per share", which it says is now estimated to increase by approximately 2% in 2020, compared to the earlier guidance for a dip of about 1%.
At the time of writing, Kellogg's shares were up in pre-market trading by 1.59% at $64.50.