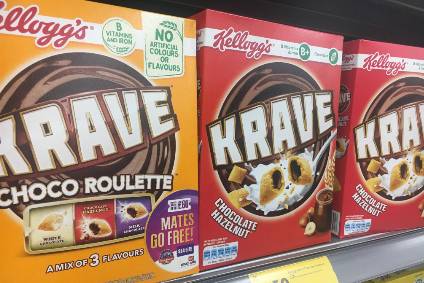 Kellogg has outlined plans to shake up its business in Europe, according to a filing from the US food giant with the Securities and Exchange Commission.
The Special K and Pringles owner is looking to reorganise its operations in the region in a bid to "simplify the organisation, increase organisational efficiency and enhance key processes".
In the SEC filing, Kellogg said the changes are "subject to consultation processes as appropriate" with employee representatives in the region.
The company expects the project to be "substantially completed" by 31 December 2020.
The filing set out how Kellogg expects the changes to lead to "pre-tax charges" of around US$50m. Cash costs are expected to be approximately $57m.
Kellogg said it "anticipates employee-related costs totaling approximately $33m, which will include severance and other termination benefits". It is also expecting costs of around $17m, which will "primarily consist of charges related to relocation, third-party legal and consulting fees, and contract termination costs".
Earlier this month, Kellogg reported the financial results for its first quarter of the year. The Coco Pops and Krave owner said its net sales fell 4% in Europe during the quarter amid "substantially adverse currency translation". Net sales grew more than 4% on a currency-neutral basis.
Kellogg said that underlying net sales growth was "broad-based across the region" and "driven by snacks".
Operating profit was off 1% on a reported basis, owing to exchange rates but increased by 10% on a currency-neutral, adjusted basis, on the higher net sales and improved gross profit margin, which Kellogg said "more than offset increased brand investment".
In 2018, Kellogg's net sales in Europe rose 5%, helped by exchange rates. Excluding forex, net sales were up 3%. The rise marked a return to organic growth for Kellogg in Europe, with the company pointing to Pringles and to "expansion in emerging markets like Russia and the Middle East".