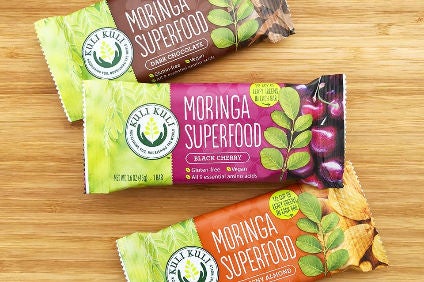 Kellogg fund Eighteen94 Capital has announced US firm Kuli Kuli, a company making bars and powders from plant food moringa, as its first investment.
The US food giant set up 1894 last summer to make minority investments in companies pioneering "next generation innovation" in the food sector.
Kellogg said today (11 January) 1894 had led an investment round worth US$4.3m in California-based Kuli Kuli. Other backers were Canada-based InvestEco and US venture capital frim S2G Ventures.
Oakland-based Kuli Kuli markets bars, powders and energy shots made out of moringa, which is produced by trees grown in semiarid and tropical areas.
"By investing in Kuli Kuli and helping them grow, we're backing a new superfood category, one in which we see the potential for ongoing high-growth," Simon Burton, the managing director of 1894 and now a member of the Kuli Kuli board of directors. "We love the company's strong management team, great products, and the authenticity of their social mission."
Lisa Curtis, the CEO of Kuli Kuli and who founded the business in 2011, said: "We want to create a world where everyone has access to nutritious sources of food. Through this relationship, Kuli Kuli will benefit from Kellogg's resources and global presence, both of which will help us achieve our goals."
Details of the amount Kellogg has invested in Kuli Kuli and the exact size of its stake in the company were not disclosed.