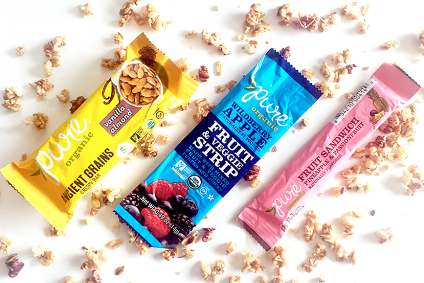 Kellogg's US natural foods business, Kashi Company, has acquired snack bar maker Pure Organic.
"We now have the amazing opportunity to move forward as part of the Kashi family of brands," Pure Organic founder Veronica Lehman revealed yesterday (16 June) in a video, posted on YouTube.
"One of the reasons I knew Kashi was a great fit for Pure was because they fell in love with Pure for all the right reasons, the same reasons we love the brand. They appreciated the home grown roots and the values that we stand for and the effort that we put in to making organic products. I am so excited to join their team and work with them to continue to build the Pure Organic brand."
Lehman founded Pure Organic in 2006 after her then six-year-old daughter decided to become a vegetarian. The company's range of snack bars are certified organic, GMO-free, gluten-free and kosher. The company does not use soy or dairy in its products, which include fruit, nut and ancient grain based snacks.
Lehman attributed the deal to the brand's growing popularity and resonance with consumers. She said the Pure Organic brand would benefit from Kashi's greater scale moving forward.
"Since I started Pure it has been a daily goal of mine to bring more nutritious, organic food to more people. Kashi has the resources, the knowledge [and] better distribution to allow us to do just that."
Financial details of the transaction were not disclosed.