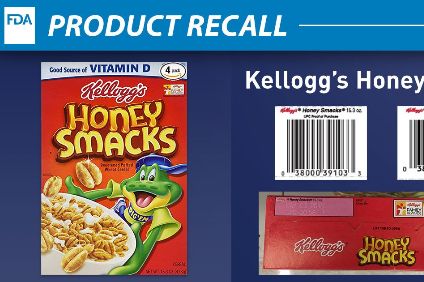 US food giant Kellogg has revealed that a cereal which was at the centre of a salmonella outbreak will return to grocery stores shelves next month.
Kellogg recalled an estimated 1.3m cases of Honey Smacks in June, saying the 15.3oz and 23oz packs "have the potential presence of salmonella" and pose a possible health risk.
Last month the country's Centers for Disease Control and Prevention (CDC) revealed the total number of people with the illness, linked to the cereal, was 130 across 36 states. While no one died from the outbreak, some 34 people were hospitalised and the CDC advised people to throw away any packets of the cereal left in their cupboards.
But now Kellogg has said that Honey Smacks will begin "rolling back on to US shelves next month in limited quantities".
It said it is releasing the cereal with a simpler, updated recipe.
Not mentioning the salmonella outbreak explicitly in its statement, the company revealed a production change.
"Honey Smacks cereal production was moved for this relaunch to a trusted and tested Kellogg-owned facility that has been reliably producing the cereal for decades," it said.
It also advised customers to look out for the return of the cereal, clearly labelled with 'new recipe' in the top left corner on front of the box.
Chris Stolsky, associate director of marketing for Honey Smacks, said: "Since its introduction in 1953, Honey Smacks has been a favourite staple in families' pantries."