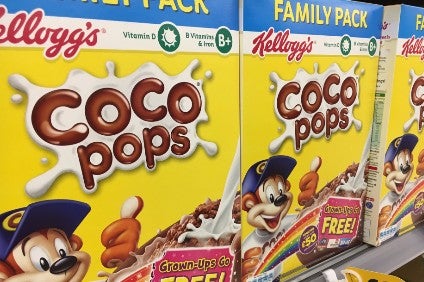 US food giant Kellogg's has announced it is to cut the amount of sugar in its three top selling children's cereals in the UK by between 20% and 40% by the middle of next year.
The lines are Coco Pops, Rice Krispies, and Rice Krispies Multi-Grain Shapes.
Kellogg's also says it will stop selling Ricicles and cease end on-pack promotions aimed at children on Frosties.
Kellogg's UK's managing director Oli Morton told BBC Radio 5 Live's Wake Up To Money that "consumers are asking for a healthier way to start the day".
"Taste and health have to go hand in hand," he said.
It plans to cut the amount of sugar in Coco Pops from 30g per 100g to 17g, a 40% reduction.
Sugar in Rice Krispies will be cut by 20% and in Rice Krispies Multi-Grain Shapes it will be reduced by 30% per serving.
The decision comes amid pressure on food firms to cut sugar levels to combat obesity.