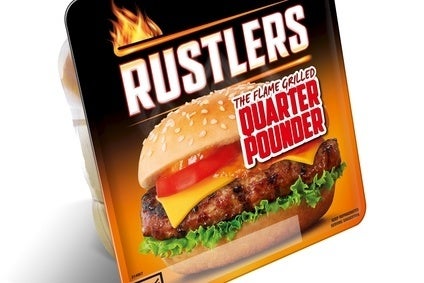 Kepak Group, the Ireland-based company, is to add panini products to its Rustlers range in four European markets.?
Two panini lines will go on sale in Ireland, the UK, Belgium and the Netherlands, as part of Kepak's moves to try to attract older consumers and female shoppers to the brand.
Referring to the UK market, Kepak said: "We know that 40% of the Rustlers audience is female and the launch comes as part of our plan to expand the appeal of the brand. The panini format is aimed at extending the brand's use at the lunch occasion, with panini as the leading hot lunch sandwich option."
Kepak could not provide images of the new panini products but did show the new packaging for the Rustlers brand, another initiative to win over more consumers. The new packaging will be used on products in all five of Rustlers' European markets, which also include Germany.
The company said the new packaging was part of a shift in how it is marketing the brand "from speed towards satisfaction".
Kepak said: "Rustlers' audience has changed and is no longer the sole preserve of lads and young men."