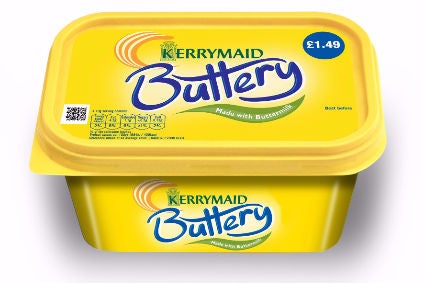 Kerry Group's UK consumer foods unit has got its sights set on the country's convenience sector with the launch of a range of spreads under its Kerrymaid brand.
The Ireland-based company wants to help boost independent retailers' sales of spreads and margarines with a line-up of Kerrymaid price-marked offerings that will "grab shoppers' attention".
The range, aimed specifically at the convenience channel, includes Kerrymaid Buttery made from buttermilk, Kerrymaid Spreadable which spreads straight from the fridge, the lower fat Kerrymaid Sunflower Light with 85% less saturated fat than butter, and Kerrymaid Olive made from olive oil.
The butter, spreads and margarine category is now worth GBP1.3m and plays a role in one in every five meal occasions, Kerry Foods said.
"There is a huge opportunity for a range of quality, competitively-priced offerings from a brand that we believe will resonate strongly with UK shoppers," explained Sally De'Ath, senior national account manager for convenience at Kerry Foods.

"More than three-quarters of UK households – 20m – buy into this category, and our research shows they are looking for quality offerings at competitive prices from a brand that they know will deliver on taste."

"Buttery and Spreadable formats now make up 50% of the BSM market, but healthier options such as Olive and Sunflower Light are also growing," added De'Ath.