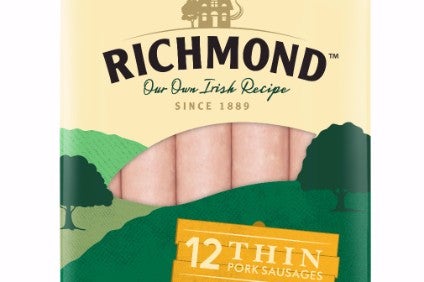 Kerry Group, the Ireland-based ingredients and consumer foods giant, today (10 August) lowered its forecast for underlying earnings due to increased pressure on its bottom line from exchange rates.
The company behind Mattessons meat-based snacks and Cheestrings cheese said "increased currency translation headwinds" meant it now expects its adjusted earnings per share to grow by 3-7% to 333.1 to 346 cents in 2017. In February, Kerry forecast growth of 5-9%.
The new forecast came alongside a set of first-half results that included higher revenue and profits on a group-wide basis.
Kerry reported rising sales volumes from both its ingredients and consumer foods divisions. However, only the ingredients arm saw its trading profit margin grow, with exchange rates hitting margins from its consumer foods unit.
Outgoing chief executive Stan McCarthy, who Kerry announced in February is retiring next month, described Kerry's results as "a strong overall business performance".
Kerry's first-half net profit stood at EUR225.1m (US$263.5m), up from EUR222.4m a year ago. The company provides a trading profit, which it said rose 5.2% to EUR338m.
The group's consumer foods arm, which also includes Richmond sausages and Yollies yogurt snacks, generated revenue of EUR677m, a decline of 2.8% year-on-year due to pressure from exchange rates. Sales volumes increased 2.3%. The division made a trading profit of EUR51m, down 11.1% on a year earlier.
Kerry said the consumer foods markets in the UK and Ireland, the two biggest countries for that side of its business, "remained highly competitive due to increasing inflationary pressures in the UK and overall competitiveness in a more fragmented market landscape".
It added: "The decline in retailer promotional activity continued as the major chains responded through EDLP strategies to the growth in convenience outlets, channel proliferation and expansion of discounter chains. Food-­to­-go, foodservice and e-­tail channels continue to grow at the expense of traditional outlets."