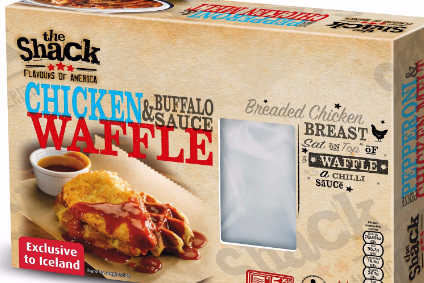 Kerry Group has launched a range of American-inspired frozen dishes in the UK.
The Shack is a line of dishes that Kerry says will make "popular restaurant food trends more accessible". The range of nine products is being sold exclusively through UK frozen food retailer Iceland.
"In the crowded frozen ready meal market, the role of brands is critical to help drive the sector. Innovation and premiumisation are key to delivering growth and The Shack delivers on both with its on-trend products, eye- catching packaging, and a market first with dips included in the packs," senior brand manager Charlotte Bourne said.
The range of five meals and four "easy eats" include a beef burrito, macaroni cheese and chicken fajita. The dishes have a recommended price of GBP2 (US$2.61) or GBP2.50 depending on the SKU.
Consumer food is the smaller of Kerry's two businesses by sales, with the majority of the Ireland-based company's revenue generated through ingredients developed for food manufacturers.
Nonetheless, Kerry has been active in developing new products for its consumer business, which focuses predominantly on the UK and Ireland.
Earlier this month, Kerry launched another product under its Cheestrings brand, targeting "after-school snacking" with Cheestrings Scoffies.
In August, Kerry added to its Fire & Smoke cooked meats range on sale in the UK with a line of snack pots.