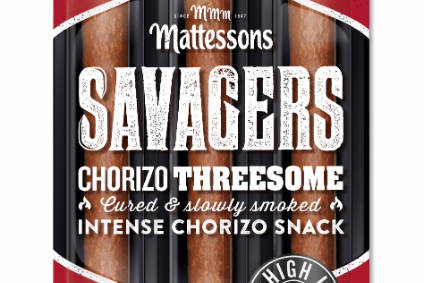 Irish ingredients-to-foods manufacturer Kerry Group booked an increase in profitability today (21 February) as the company shrugged off top line softness in its consumer foods division.
The company's 2016 results came alongside the announcement CEO Stan McCarthy is to retire this autumn.
Kerry said trading profit increased 7.1% in 2016, rising EUR749.6m (US$792.9m). The company said the trading operating margin rose by 70 basis points on a group-wide basis thanks to factors including improved product mix and lower spending on the group's "1 Kerry" business transformation programme. The company's consumer foods unit, which includes brands such as Wall's sausages and Mattessons meat snacks, increased its margin by 30 basis points to 8.8%.
The group's revenue growth was less pronounced, however. Sales increased by just 0.4% on a reported basis to EUR6.1bn. Volumes increased by 3.6%, but this was offset by lower pricing, which dropped by 2.1% from 2015's levels, as well as currency exchange.
The drop in sales was driven by a 9.7% decrease in consumer foods revenue, which offset growth in Kerry's ingredients arm. Consumer food sales dropped to EUR1.3bn in 2016 compared to EUR1.5bn in 2015. The fall was driven by lower volumes and the negative impact of forex and disposals, Kerry noted.
On a net basis, Kerry's earnings fell sharply due to items including fair value movement on cash flow hedges and the re-measurement of retirement obligations. Total comprehensive income in 2016 fell to EUR387.3m versus EUR627.3m in the year-ago period. On an adjusted basis, however, post tax profit increased to EUR533.1m from EUR525.4m.