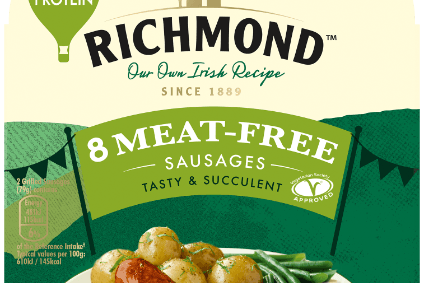 Kerry Group has refused to be drawn on a report claiming the Ireland-based food and ingredients manufacturer is considering the future of its consumer-facing division.
Bloomberg, citing unnamed sources, said Kerry is weighing up what options it has for the unit, which is home to brands including Richmond sausages and Dairygold butter.
The business media outlet said the sources had suggested Kerry could look to sell the entire division, or spin it off, or try to find buyers for the assets in a piecemeal fashion. A review of the unit is said to be in its initial stages.
Kerry declined to comment when approached by just-food this afternoon. "The company does not comment on rumours or speculation," a spokesperson said.
The Tralee-based group's Consumer Foods arm, which also markets Naked Glory meat-free products and Cheestrings cheese snacks, has long been the smaller part of its business by revenue and margins and its future has often been chewed over by parts of the investment community.
In 2019, Kerry's Consumer Foods arm accounted for just over 18% of its EUR7.2bn (US$8.81bn) of revenue (back in 2013, for example, that proportion stood at 28%), generating a "trading margin" of 7.6%. The company's ingredients business made up the rest of the revenue and booked a trading margin of 15.3%.
Offloading the consumer-facing assets could provide resources to invest in Kerry's ingredients division, which the company has been looking to grow through M&A.
"The final hurdle remains of who a realistic buyer could be, of a business whose valuation could be higher than we first thought," analysts at Jefferies said today. "With obvious trade buyers not appearing to have balance sheet flexibility, private equity would be the remaining plausible option. There could also an opportunity for this to be done piecemeal (by brand or split fresh/frozen), a tactic [UK manufacturer] Premier Foods have employed in recent years."