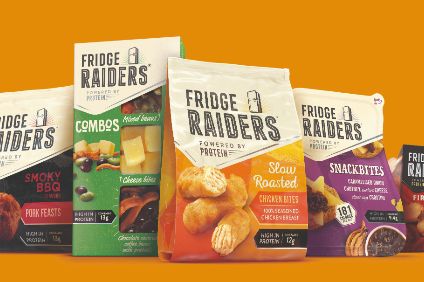 Kerry Group is putting its Fridge Raiders brand at the heart of a revamp of its meat-snacks portfolio in the UK.
The Ireland-based company is to put all its protein snacks on sale in the UK under its Fridge Raiders brand, including products previously marketed under the Mattessons, Fire & Smoke and Go Go's brands.
Kerry said the move would help it "capitalise" on growing demand for protein-based snacks in the UK, while repositioning the Fridge Raiders brand and broadening its appeal.
"The previous positioning of Fridge Raiders targeted teenagers who, together with kids, represent 15% of snacking occasions. However, we see a great opportunity to widen its appeal amongst adults, capturing the broader 85% of snacking occasions. We want consumers to identify Fridge Raiders as a smart snacking solution, targeting adult snackers who want to get the most out of every day," Alastair Gibbons, the marketing manager for Fridge Raiders at Kerry's UK consumer foods arm Kerry Foods, said.
The broader portfolio of Fridge Raiders products has new packaging and will be backed by a GBP3m (US$4m) marketing campaign.