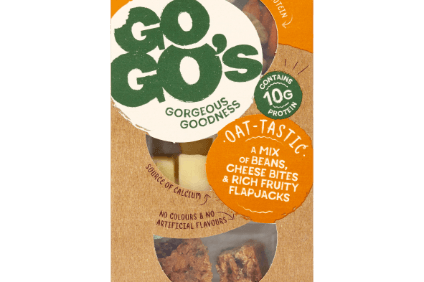 Kerry Group has added to its range of snacks on sale in the UK with the launch of its GoGo's brand.
GoGo's snacks contain cheese bites and ingredients such as edamame beans or flapjacks.
Amanda Ryan, senior brand manager at the company's UK consumer-focused arm Kerry Foods, said: "We know that many adults are looking for tasty snacks that make them feel good about what they are eating and that's what we reflected in our GoGo's innovation. Finding a gap in the market, GoGo's will disrupt snacking and revolutionise the dairy aisle with a range of products that allow shoppers the chance to experience interesting flavour combinations."
Ryan said Kerry has secured "a number of listings across the grocery and convenience channels".
Kerry has developed three lines. One contains roasted edamame beans, chilli and lime peas, cheese bites, dark chocolate-covered coffee beans and pretzel sticks.
A second has roasted corn, edamame beans and flapjacks alongside the cheese bites. The third line puts soy broad beans, roasted edamame beans and chorizo bites alongside the cheese bites.
The first two are available in 55g packs at an RSP of GBP1.50 with the third on sale in a 70g pack at an RSP of GBP2.