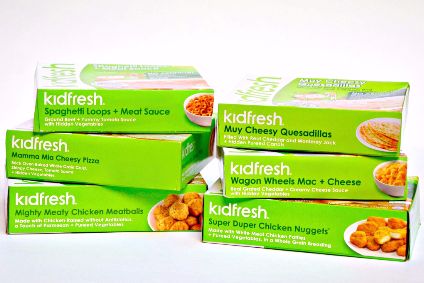 US frozen children's meal maker Kidfresh plans to "accelerate growth" following a funding round led by Monogram Capital Partners.
Kidfresh attracted additional investment from Monogram alongside existing institutional investors Emil Capital Partners and AccelFoods.
New York-based Kidfresh manufactures "better-for-you" frozen meals containing "hidden" vegetables. The meals are free from artificial flavours, colours and preservatives. The company's products are distributed throughout the US and the capital injection will be used to expand the Kidfresh team, drive brand awareness and support "rapid expansion" into new growth channels, the company said.
"Today's parents are saying no to processed foods and yes to nutritious and convenient meals for their children. We are creating a solution for them and a destination in the frozen food aisle. Monogram, Emil Capital and AccelFoods constitute the dream team for Kidfresh and are simply the best partners in the industry," said Kidfresh co-founder Matt Cohen.
Monogram founder and partner Jared Stein said that he was attracted to Kidfresh because it provided a point of difference in a frozen food sector "starved" for innovation. "Kidfresh is on an authentic mission to provide parents with food offerings that are equal parts healthy and convenient at an approachable price point," he said.
Financial details of the funding round were not released.