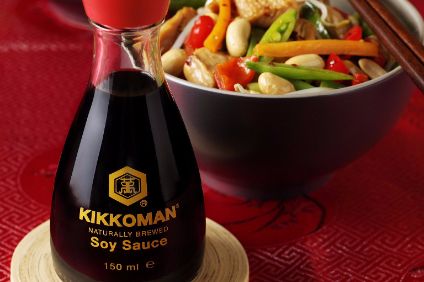 Kikkoman , the Japan-based condiments and seasonings group, has reported an improved nine-month bottom line but lower operating earnings and net sales in a mixed set of figures.
The company today (7 February) booked a 31.1% jump in net income to JPY22.39bn (US$199.3m) for the nine months to the end of December.
However, Kikkoman's operating profit fell 3.1% to JPY26.26bn. Kikkoman's net profit was helped by a swing in its tax bill, which was lower year-on-year.
Net sales were 2.9% lower at JPY301.78bn.
Kikkoman said the decline in its sales had come amid "somewhat stagnant" global economic growth, dampened by the slowdown in China and "other emerging economies". The company also characterised the economic recovery in Japan as "limited".
Sales from Kikkoman's domestic food manufacturing and sales arm were down. It said lower year-on-year sales from the food products division and the combined liquor and wine unit offset "good sales" in its soy sauce unit and higher sales from its beverages division.
Overseas, Kikkoman's sales were up when measured in local currencies, although the group felt the impact of exchange rates due to the increase in the value of the yen.
Kikkoman, which had forecast higher net income but lower operating income and net sales in its current financial year, stuck to its full-year forecasts. The company estimates its annual net income will be JPY24bn, up 20.2% year-on-year. It has predicted its operating income will be JPY31.5bn, down 3.4%. Kikkoman has forecast annual net sales of JPY393bn, 3.8% lower than its 2015/16 financial year.