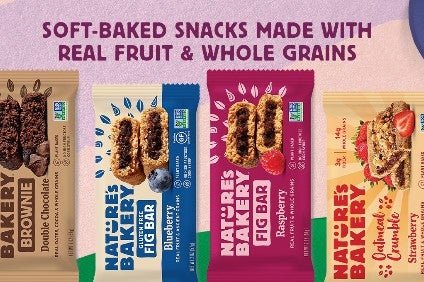 Kind, a US-based snack bar firm set to be fully acquired by Mars, has struck a deal to buy better-for-you snacks counterpart Nature's Bakery.
Established in 2011 by Dave Marson, family-run Nature's Bakery makes plant-based snack bars using natural ingredients such as figs and oatmeal, with all of its products free from nuts and dairy, and some are also free of gluten. The company is based in Hazelwood, Missouri.
The CEO of Nature's Bakery, Chris Lansing, will remain in her role, reporting to the global president of the Kind business, Juan Martin.
Last month, Mars announced the "next step in its strategic partnership" with Kind by acquiring its North American business. The Snickers owner first invested in Kind in 2017, a transaction that also gave it ownership of the US firm's international business. Kind's founder and CEO Daniel Lubetzky will "retain an ongoing financial stake", Mars said at the time.
Revealing the deal for Nature's Bakery today (2 December), Lubetzky said in a statement: "If you look at pantries across the country, odds are you will find Kind and Nature's Bakery products sitting side-by-side. It comes as no surprise that, along with Kind, they remain one of the growth leaders within the snack bar category."
Financial terms of the deal, which is subject to regulatory approvals, were not revealed.
Nature's Bakery products include Whole Wheat Fig Bars, Gluten Free Fig Bars, Oatmeal Crumble Bars and Double Chocolate Brownie Bars. All are vegan and non-GMO certified.
Marson added: "As a multi-generational family of bakers we sought to create a company committed to making wholesome snacking accessible to active families everywhere. Nature's Bakery will benefit from continued reach and expansion of this vision through its partnership with Kind."