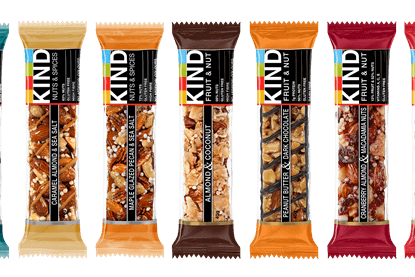 Kind LLC, the US snack bar maker, is set to launch in the UK.
The company has secured listings at 400 Tesco stores across the country. Products from a range that includes seven lines will go on sale from next month.
Kate Lucas, MD of Kind's UK arm, said: "We believe that Kind is exactly what the British snack category is missing with the range's unique flavour combinations setting it apart from others on the market. Consumers today have an always-on lifestyle but are ever more health conscious so they need a convenient snack that tastes great and is nutritionally rich."
Flavours available in the UK include dark chocolate nuts and sea salt; and almond and coconut. The bars have a recommended retail price of GBP1.29.
Kind, set up in 2004, has been touted by US industry watchers as an example of a fledgling company that has successfully gained a foothold in a category in the country dominated by some of the largest food companies in the industry.
In April, the US Food and Drug Administration announced Kind had breached local rules on making health claims on its products.
Among the violations, the FDA said Kind could not say the four bars were "healthy" as they contain higher-than-permitted levels of saturated fat. Elsewhere, online marketing for Kind's peanut butter dark chocolate and protein bar was found to have breached rules for saying the product was "antioxidant rich".