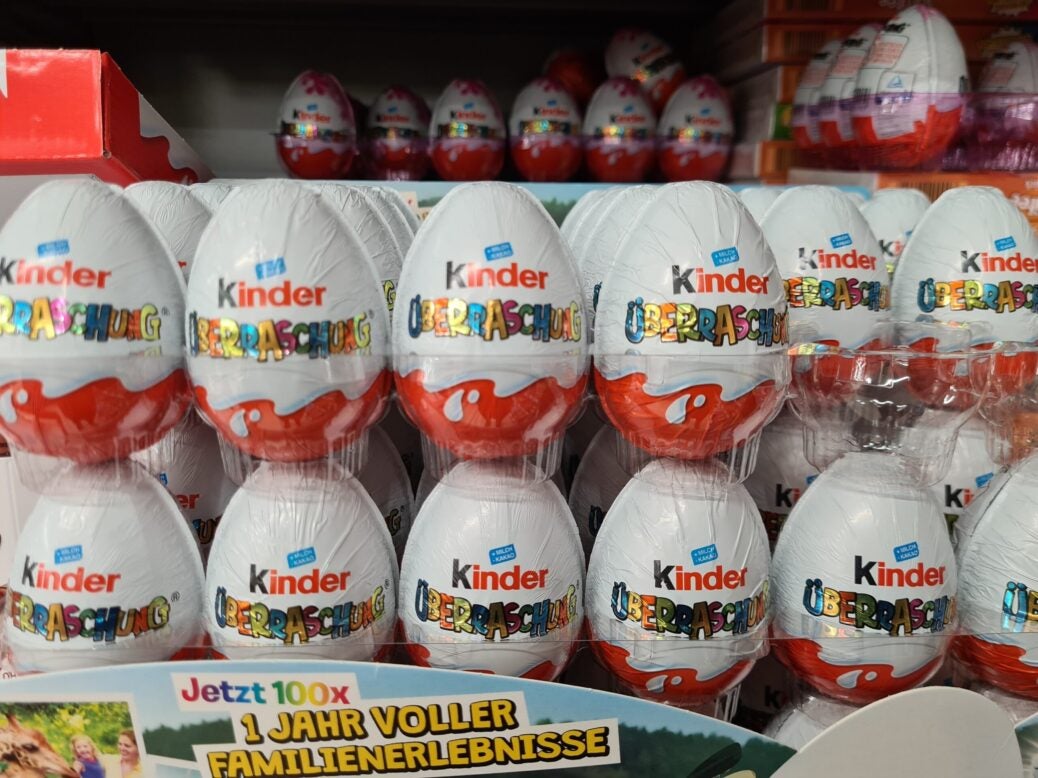 The Ferrero factory at the centre of the Kinder egg recall across Europe is the subject of an investigation by the local public prosecutor.
The public prosecutor's office for the southern Belgian region of Luxembourg has launched a probe into the site in Arlon now closed after being linked to more than a hundred cases of illness.
Anne-Sophie Guilmot, the deputy public prosecutor of the Luxembourg province, told Belgian newspaper Le Soir further information would be published at the end of the week.
On Friday, Belgium's food safety authority withdrew "authorisation" for the plant to operate after "an in-depth investigation".
According to a joint statement from the European Centre for Disease Prevention and Control (ECDC) and the European Food Safety authority (EFSA), 150 cases of monophasic Salmonella Typhimurium – 119 confirmed and 31 deemed "probable" – have been linked to chocolate products made at the site.
The cases have been reported in ten European countries. Infections have mainly occurred among children under ten years old, EFSA said. Products, including Kinder eggs, have been recalled.
The illnesses came to light on 17 February when UK public-health officials reported a cluster of cases with monophasic Salmonella Typhimurium infection. Sixty-five of the cases of illness have been in the UK.
In the joint statement, the European agencies said yesterday (12 April) Salmonella Typhimurium matching the outbreak strain was detected in a buttermilk tank at the Arlon factory in December as part of Ferrero's own checks.
The snacks giant "implemented some hygiene measures, and sampling and testing of the products and processing environment were increased", the statement read. "After negative Salmonella testing, it then distributed the chocolate products across Europe and globally. At the end of March 2022, upon availability of sequencing data, scientists linked human cases to the establishment in Belgium through advanced molecular typing techniques."
The agencies added: "EFSA and ECDC experts say that further investigations are needed to identify the root cause, time and possible factors behind the contamination, including the evaluation of possible wider use of contaminated raw materials in other processing plants. Because molecular typing is not routinely performed in all countries, some cases may be undetected."
Confirming the "suspension" of operations at the Arlon factory on Friday, Ferrero said: "Ferrero acknowledges there were internal inefficiencies, creating delays in retrieving and sharing information in a timely manner. This impacted the speed and effectiveness of the investigations. The plant will only re-open once certified by the authorities."
The facility accounts for about 7% of total Kinder volumes annually, the privately-owned company has confirmed.
Ferrero added on Friday with the respect to the Arlon suspension: "This is the only and right decision to take to ensure the maximum level of food safety and eliminate the risk of further contamination."
"We deeply regret this matter. We want to sincerely apologise to all our consumers and business partners and thank the food safety authorities for their valuable guidance."