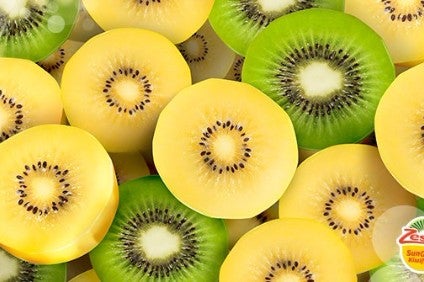 New Zealand-based Kiwifruit grower Zespri is about to commercialise a red variety of the fruit as it seeks to increase sales by more than 40% over the next six years.
Zespri said the red variety has been developed via its new breeding programme, run in partnership with Auckland-based Plant & Food Research – a government-owned R&D institute – and has already been through an "extensive trial process" to test for taste and transportability.
The company added the distinctive red flesh comes from Anthocyanin, which Zespri describes as "a unique and naturally occurring pigment within the fruit that is linked to cardiovascular and cognitive health". Zespri Red is smaller than the green and gold varieties.
Zespri said it plans to launch the red variety first in Asia, although it will appear in "selected supermarkets" in New Zealand under limited release next year and the year after as "production increases towards commercial volumes".
Chief executive Dan Mathieson said the roll out of a new kiwifruit variety will help in Zespri's ambitions to reach NZD4.5bn (US$2.9bn) in sales by 2025. For the financial year ended 31 March, sales amounted to NZD3.1bn, an increase of 26% over the prior 12 months.
He continued: "After incredible feedback from our passionate consumers, we're really excited to announce we will be making our new Zespri Red variety available to consumers, with production set to increase in New Zealand over the next couple of years so that we can reach commercial volumes.
"Adding a red kiwifruit variety to our range of premium kiwifruit provides Zespri with an opportunity to further compete for market share in areas where kiwifruit is currently under-represented and ultimately grow our industry's share of the global fruit bowl…..it'll take at least two years for the vines here in New Zealand to produce enough fruit to meet initial demand."