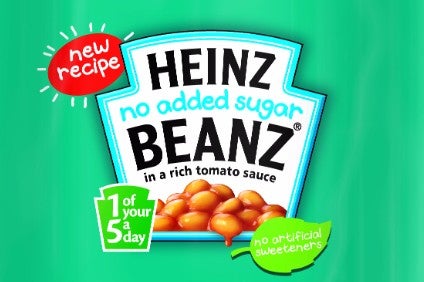 Kraft Heinz is launching a "no added sugar" version of Heinz Beanz in the UK, a product that will replace the 50% Less Sugar line on sale in the market.
Heinz No Added Sugar Beanz will be launched next month, taking the place of a 50% less sugar line that has been seeing sales growing at 27% year-on-year, Kraft Heinz acknowledged, pointing to Nielsen data.
However, Umme Ali, assistant brand manager for Heinz Beanz in the UK, said: "With health concerns high on consumers' minds, we are committed to leading the way in the category and developing products that provide consumers with a no added sugar option. With the launch of Heinz No Added Sugar Beanz, Kraft Heinz aims to increase sales in the reduced sugar beans category by 10%, as sugar reduction increasingly becomes front-of-mind for shoppers."
Per 100g, the No Added Sugar beans contain 1.9g of sugar and 0.4g of salt. The levels compare to the 2.3g of sugar in the 50% Less Sugar line that is being replaced. That product also contains 0.4g salt.
Citing Nielsen data for the week ending 18 September 2016, Kraft Heinz said the reduced sugar beans category was worth GBP28m (US$35.1m) in the UK.
It pointed to Nielsen data for the 12 weeks up to 3 December to say the category was growing 18% year on year.
New research published by just-food argues food companies must accelerate moves to cut the sugar content of their products, or step up efforts to reformulate in other ways to reduce the amount of the ingredient, in the face of growing regulatory pressure.
If you buy a year's subscription to just-food by 31 January, you can pick up a free copy of the report – 'Is Sugar The Next Tobacco?' – and another recent report 'How Brands Are Making Our Food Healthier'. Click here to find out how.