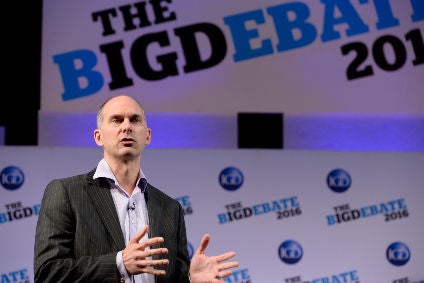 Kraft Heinz has called on UK grocers to remember the "importance" of innovation in growing sales as they "re-set" their ranges, moves they believe will make the shopping trip simpler and help alleviate the competitive threat of discounters Aldi and LIDL.
Matt Hill, the president of Kraft Heinz's European business, said today (18 October) innovation was the "lifeblood of categories" and was vital to meet "the emerging needs" of consumers including increasing demand for healthier products or more convenience. However, Hill argued the recent and ongoing cuts UK grocers were making to their ranges meant they were focusing more on improving the "efficiency" of a shopping trip and missing the benefits of innovation.
"My request to retailers is not lose focus on innovation in the huge drive for efficiency that's going on at the moment," Hill told an industry summit held by UK research organisation the IGD in London. "Efficiency and innovation can and must co-exist if we are to grow our categories for the long term."
In the last 18 months, UK retailers including Tesco and Asda have conducted significant reviews of the ranges they sell in-store as part of their attempts to win back consumers from Aldi and Lidl and grow sales.
Hill said such moves, as well as other initiatives by retailers to change the way products are merchandised in-store, meant it is "a tough time for innovators".
"Retailers have radically reviewed displays in-store in an effort to reduce what CEO termed as 'clutter'," Hill said. "There is a balance between efficiency, clarity in-store and corporate identity and creativity that's going to engage, excite and inspire and generate impulse. Our challenge is to create real theatre, helping to interrupt the autopilot. There is a danger that in the drive for in-store efficiency and strict corporate merchandising policies creativity suffocates. I understand completely from the retail side as we are doing ourselves as a manufacturer. However, creativity sells. There has to be a place in-store for engaging creativity, breaking the autopilot, surprise, delight and create impulse. That's what brands and innovation are all about. We have to bring more of that back to the in-store environment."
Hill added: "The moment we're in, with quite a fundamental re-set going on in a lot of the major retailers around efficiency and simplification, means innovation I don't think has the level of focus it perhaps deserves."
Hill insisted Kraft Heinz had "a very good success rate of introducing new products". He said the beans-to-soup business was looking to work with retailers earlier in its innovation process in a bid to make it more likely its new products would be listed and stick in ranges. Hill pointed to a recent visit Sainsbury's made to Kraft Heinz's innovation centre in the Dutch town of Nijmegen.
"We're trying to work further out and earlier and more collaboratively. Bringing customers to our innovation centre to Nijmegen, Sainsbury's were there with us earlier this week, to work much earlier in the funnel, to engage them in the execution of our innovation to make sure that firstly there's good buy-in and that we're also starting to build in more the views of retailers in how we execute."
In a message to the members of the audience who worked for manufacturers, Hill alluded to Kraft Heinz's global product development strategy of investing behind what the US company calls "big bets", or, in other words, launch fewer but bigger new products across its markets.
"As brand owners, we need to adapt to this new reality," Hill said. "My advice is simple: be more selective. Place fewer, bigger bets. Proactively prune our own ranges before our customers do that for us. And bring novelties that truly add value for our customers."