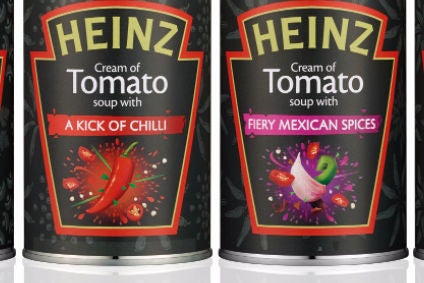 Kraft Heinz has signalled it believes its business in Europe will see improving results as the US food giant moves through 2016.
The Heinz ketchup and Lunchables snacks maker saw its shares jump on Thursday (5 May), the day after the company reported first-quarter results that included group net sales and adjusted EBITDA that came in ahead of analyst forecasts.
Analysts broadly welcomed the performance. Morgan Stanley's Matthew Grainger said the "quarterly upside [was] primarily driven by solid fundamentals, while Pablo Zuanic at Susquehanna International Group said the improvement in sales "should ease concerns that the integration process and focus on cost cuts would hurt the top line".
However, Kraft Heinz's business in Europe had a challenging quarter. The company booked pro-forma net sales of US$553m for the quarter to 3 April, down 11.7% on the year. Disposals hit sales by 4.1 percentage points and exchange rates had a negative impact worth 3.9 percentage points. However, net sales fell 3.7% on an organic basis, amid increased promotions on soup and beans in the UK and lower shipments of infant formula in the UK and in Italy.
Kraft Heinz's European business generated adjusted EBITDA of $177m, down 17.3% on the first quarter of 2015 thanks to exchange rates, lower prices and investment in marketing. Sanford Bernstein analyst Alexia Howard said: "Europe was a standout area of weakness on an otherwise strong set of results."
Speaking to analysts on a conference call to discuss Kraft Heinz's first-quarter results, CEO Bernardo Hees suggested the company had performed better in continental Europe than the UK. "It's important to really separate a continental Europe from the UK. We had actually a very solid first quarter in continental Europe," he said. "The UK, a significant part of our business in Europe, had key categories that experienced challenges."
One notable challenge for Kraft Heinz in the UK is in the country's soup category. The company lost distribution in the fourth quarter of 2015 and it upped its investment in promotions to try to regain ground. "While this led to a solid March performance, our January and February results were much more like what we saw in Q4, made worse by the fact we were at the high of the soup season," CFO Paulo Basilio said. "This along with the lower shipments of infant nutrition in the UK and Italy led to a volume/mix decline of 0.8%, and offset both the solid volume gains in the UK beans as well as ongoing growth in condiments and sauces across Europe."
On the investment in soup in the UK, Hees added: "You're already seeing in March, better volumes and better results. I think in Europe as a group, what happened in UK soup is a specific category and is a specific challenge situation from the retail environment and comparatives."
The money spent on Kraft Heinz's UK business was factor in the lower adjusted EBITDA from the company's European arm as a whole in the first quarter but the company also invested behind some of its "big bets", a strategy to launch fewer but bigger new products across its markets. Basilio said Kraft Heinz expects to see growth from those moves later in the year and added: "In the end, we feel better about the health of our European business than our Q1 numbers might indicate and are continuing to invest in profitable growth as we move forward."
For the company as a whole, Kraft Heinz said it was generating savings from the 2015 merger between Kraft Foods Group and HJ Heinz were coming in faster than expected, which, alongside some benefit from lower commodity costs, boosted its profitability. Basilio said Kraft Heinz expects pricing "to be more in line with key commodity costs as we move forward".
Kraft Heinz's management revealed its first-quarter adjusted EBITDA had also been helped by factors including a decision to delay price cuts despite the lower input costs and a comparison to last year's first quarter when the old Kraft Foods Group delayed upping prices despite a rise in commodity costs.
The company said its first-quarter sales had also been helped by factors including the company moving to fill its product "pipeline" to support recent launches and shipment timing between quarters.
Reflecting on its first-quarter sales, Hees said: "On the top line, while we saw less foreign exchange drag than Q3 and Q4 that year, it was still a 4.5% headwind on Q1 results. That being said, we had a solid organic net sales performance, up 1.1%, driven by a good balance of volume/mix and pricing. Volume/mix was up 0.8%, reflecting growth in, first, condiments and sauces globally with particular strength in developing markets; second, Lunchables and P3 in the US and, finally, foodservice expansion in the United States."