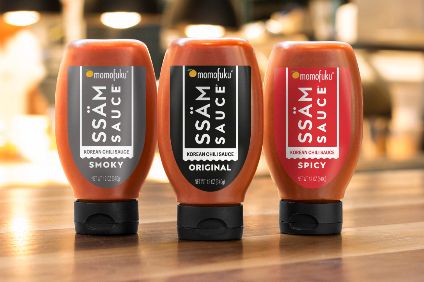 US food giant Kraft Heinz is backing Momofuku, the New York-based restaurant group founded by celebrity chef David Chang, which is rolling out its signature Ssam Sauce through e-commerce giant Amazon.
Kraft has backed Momofuku through its Springboard Brands incubator unit, which was launched last month with a brief of "nurturing, scaling, and accelerating" the growth of "disruptive" US food and beverage brands.
Variations of Ssam Sauce have been a staple in the pantry of Momofuku kitchens since the opening of Momofuku Noodle Bar in 2004. The original Ssam Sauce combines gochujang, a traditional, umami-rich Korean chili paste, with miso, sake, soy sauce, and rice vinegar.
Original Ssam Sauce will be available on Amazon alongside two new flavours, Smoky and Spicy.
Chang said: "The flavours of Ssam Sauce are part of Momofuku's DNA. It's something that we've served in the restaurants for 14 years, and it's crazy to me that it will now be available across the US.
"I seriously put Ssam Sauce on everything so we're really excited to see how people use it at home, especially now that we have the Spicy and Smoky flavours too."
Momofuku's Culinary Lab collaborated with Springboard to scale up the original Ssam Sauce recipe for national distribution and to develop the new flavours.
Sergio Eleuterio, general manager for Springboard Brands, said: "David Chang's culinary influence is stronger than ever, and we couldn't be more excited to partner with him.
"Korean sauces and flavours have become more and more infused in American cooking, and we are so excited to take a long-time staple in Momofuku's pantry and introduce this as a staple in home kitchens across the country."
According to the Springboard website, businesses chosen to join the incubator get funding of US$50,000 and then the "opportunity to earn additional funding, up to another $50,000 during the programme".