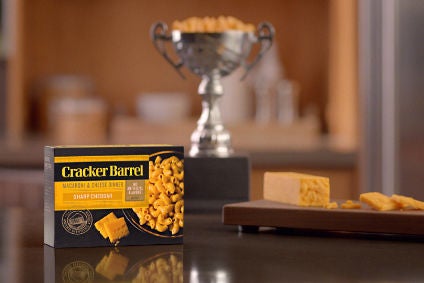 Kraft Heinz is launching macaroni and cheese under its Cracker Barrel Cheese brand in the US.
The company has developed a range of four: Sharp Cheddar Macaroni & Cheese; Sharp White Cheddar Macaroni & Cheese; Cheddar Havarti Macaroni & Cheese; and Sharp Cheddar & Bacon Macaroni & Cheese.
"Cracker Barrel has such a rich history of cheese-making, known and loved for its smooth creaminess and bold sharpness," said Johnni Rodgers, brand manager of meal solutions at Kraft Heinz. "A natural next step was to combine our award-winning cheddar with macaroni – bringing a premium and authentic offering to the boxed dinner aisle."
Asked if Kraft Heinz was concerned the new products might cannibalise sales of the company's Kraft macaroni and cheese product, a spokesperson for the company told just-food: "No, Cracker Barrel macaroni and cheese is for families with older children who buy prepared macaroni and cheese from restaurants or refrigerated sections at grocery stores rather than shelf-stable packaged varieties."
The product is priced at US$3.49 for an individual 14oz box.