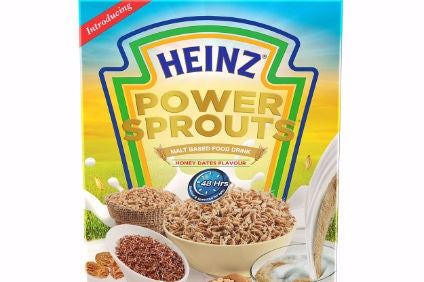 Kraft Heinz has launched Heinz Power Sprouts, a high-nutrition health drink "enriched with the power of sprouted grains", in India.
"Sprouting is traditionally known to increase the nutrition of grains," Kraft Heinz said. For the new product two sprouted grains, ragi and barley, have been used, along with soya and wheat. The company claimed the ingredients "support physical and mental growth".
"Ragi is known to be a rich source of calcium – a significant factor for bone development," Kraft Heinz said. "It contains higher amounts of dietary fibre and aids digestion, prevents over-eating and makes one feel fuller for a longer span of time. Barley is rich in fibre and is also a source of calcium. Wheat is a rich source of energy while soybean is a source of superior quality of protein. It contains all the essential amino acids necessary for human nutrition."
Heinz Power Sprouts is available in two flavours – Honey Dates and Chocolate. "The whole grains used in the product are soaked and sprouted for up to 48 hours and then slow roasted to unlock the rich and delicious flavour that both kids and adults will relish," Kraft Heinz said.
The new product is being made throughout all major urban and rural retailers in West Bengal, Tamil Nadu, Karnataka, Andhra Pradesh and Telangana. It is available in 500 grams refill packs priced at INR230 (US$3.44).